Hello, lovely readers! Congratulations–we've made it to Friday [happy dance]! Let's catch up and review this past week:
1. It's been a good nail polish week. And a better one may be coming, as I'm in the process of trying out Jamberry nails!
The new OPI Nordic collection released at Ulta! I love it because it reminds me of Frozen. The violet hue on my nails is "Do You Have This Color in Stock-Holm" and my ring finger is accented with "My Voice Is Norse."
OPI Little Northies Collection: Ulta, $13.95 ($10.45 w/ $3.50 coupon)
Check out the post here for details on how to get all of this for $2.99 shipped ($62 value)!
2. Last night, Kane and I headed out to Thursday Night Live with our good friend, April. If you live in Lex and have never experienced TNL, you should go. We had great food, great conversation, and an all-around great time! Kane especially enjoyed petting all of the animals– doggies, horseys, and balloon animals too. April was also kind enough to play photographer for some blog photos, so stay tuned!
Speaking of Kane, he began transitioning to the next room up at his daycare on Monday. He loves it, but it's always a little sad to mommy that her baby is not such a baby anymore.
3. On Saturday morning, I "ran errands." And by ran errands, I mean I shopped (anytime I'm going shopping by myself, I always tell Chauncey that I'm running errands.lol). Lex had its specialty shop sale, which is when most of the boutiques in town get together under one roof and have their merchandise at least 50% off! While I was disappointed that the local Lilly boutique pulled out at the last minute, I got some great deals–all the items below were only $55 from Bluetique Cheap Chic! My favorite find was the houndstooth bow-back dress for only $5!
Say hi to my furry photobomber, Gizmo:) Also, the houndstooth dress is shown from the back.
And yes, those pants are BRIGHT. Be sure to follow along on Instagram for a look at how I styled them!
4. It wouldn't be a #H54F post without some food. Clockwise, from top left: [one[I had a coupon for a free lunch combo at Applebee's this week, so I had a nice, free lunch with some good friends (don't worry–I had coupons for them too). I also had this awesome Icee from Burger King. I craved them the last little bit of my pregnancy, and still enjoy them. I gave Kane a couple of sips, and he loved it too! Finally, I got a free appetizer from Texas Roadhouse, which equaled a free meal!
I'd already taken a bite of the chicken tender before I thought to snap a pic. Oops.
5. I received my last Birchbox in the mail. Isn't that sad? I truly love Birchbox, and I seriously just reached Ace status, but I felt like it was time to change things up. I joined Ipsy, which is very similar to Birchbox, except for every month you get your items in a Glambag (an actual reusable pouch) instead of a box. Ipsy seems to have more of a make-up bent to it, whereas with Birchbox I felt like I got a lot of hair products. I'll be sure to share with you guys when it arrives!
How's YOUR week been? Find any good deals? Have something totally awesome happen? Let me know in the comments below!
Also, I recently just installed my blog button! If you're a blogger and would be interested in doing a button swap, please email me at brightonabudget@gmail.com!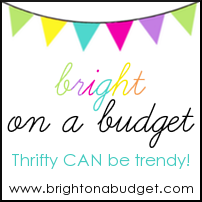 <div align="center"><a href="https://www.brightonabudget.com" target="_blank" title="Bright on a Budget"><img src="http://i865.photobucket.com/albums/ab211/kreatedbykelsey/Guiliana%20Marie/brightonabudget.png~original" alt="Bright on a Budget" style="border:none;" /></a></div>