Before I started blogging–heck, before I even really followed blogs in general–I started Pinteresting. Of course, I ran across The Small Things Blog, which I started reading daily. This led to me also reading Kate's sister Lauren's blog, The Lauren Elizabeth (formerly From My Grey Desk Blog–does anyone else remember those days?). Lauren's blog was truly an inspiration for me (she had a great series on blogging and how to start), and was what motivated me to finally start blogging.
Since I started blogging, I've joined her High Five for Friday link-up almost every single week. I have ran across many fun and interesting blogs to follow, and made friends with some AWESOME fellow bloggers. Late last year, 3 of those friends–Caitlin, Della, and Katie–and I started kicking around the idea of doing a link-up. We had a name and a concept, but were waiting until after the 1st of the year to begin it. And just before we sent out the email to invite people to link-up, Lauren posted that she was handing over the reins to the H54F link-up. Without really consulting with the girls first (sorry, not sorry–the girls were just fine with it), I shot an email to Lauren requesting to pick-up the link-up. And here we are!
So, we would like to announce our 4 blogs as the NEW home for High Five for Friday: Bright on a Budget, Coffee with Caitlin, Cup of Tea, and Della Devoted!!! We are SO excited for this opportunity to connect with you all om a whole new level! For our fellow bloggers, we hope that you will join us for our first High Five for Friday link-up this Friday, January 9. The link-up will go live at the normal time of 7 a.m. EST. You can grab the button below to use for your post if you do. For our followers who don't blog, we hope that you'll stop by to check out our regular H54F posts and check out some of those in the link-up as well. Who knows–you might find your new favorite blog(s)!!!
Oh, and we are giving away a $100 giftcard to one lucky blogger who links-up with us this Friday (open to U.S. residents only)! Details will be on Friday's post!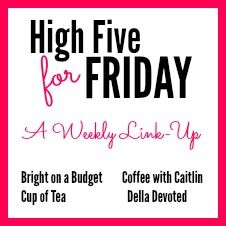 <div class="bright-on-a-budget-button" style="width: 200px; margin: 0 auto;">
<a href="https://www.brightonabudget.com" rel="nofollow">
<img src="http://i40.photobucket.com/albums/e232/coffeewithcaitlin/h54f2_zpsc7e1f4e7.jpg" alt="Bright on a Budget" width="200″ height="200″ />
</a>
</div>