TGIF! Congrats on making it to Friday[. . .seriously, insert cheers]!!! I want to begin by thanking everyone who linked up with us for our 1st week hosting H54F! We had so much fun reading your posts:) If you're new to the party and want to know more about the link-up and how it works, or about us and how we became the new hostesses, you can catch up here. Congrats to Becky over at BYBMG who won our $100 Target giftcard giveaway!
Each week, H54F will feature a blogger who has linked up the week before. This week's featured blogger is Amanda from Kids & Cabernet. Amanda is a SAHM who blogs about her "favorite wine, mommyhood, fashion, recipes, decorating [her family's] home and anything that comes to mind." Last week's H54F post featured a fabulous Kate Spade watch I hadn't seen yet but am now in love with.
Now that housekeeping's done, let's recap the week:
1. Target is having an awesome sale on storage totes this week! I love storage totes, but hate the price. They have at least 3 styles that run $9.79-11.99 each cut down to $5, plus you can save an extra 10% on any storage tote purchase over $50 if you order online and pick up in store! I purchased 10 storage totes (4 regular size and 6 under-the-bed size) for $42.75 after my Redcard savings. Also, while we're on the subject of Target, let's have a moment of silence for our Canadians friends—RIP Target Canada:(
2. Chauncey and I started watching True Detective on HBOGo. The show is really interesting. The setup of the show is similar to American Horror Story in that each season is a completely new story line; it's different in that each season has different actors/actresses. The first season features Matthew McConaughey and Woody Harrelson, and I think they both nail their characters! Has anyone else watched it? No spoilers, please, because we're only 3 episodes in.
3. There's finally a new Wardrobe Re-Wear post! In case you're not familiar, a Wardrobe Re-Wear post shows two different looks for one piece of clothing. This one features the basic black turtleneck. These are my favorite posts to do, and they'll be making regular appearances again now that school is done.
4. Kane and I traveled "back home" last Friday to visit with family. We had a great time, even though it was a quick trip. Kane is learning new words so quickly now. Some of the new words he can say include Papaw, duck, choo choo, and bath. He can count to two (I just randomly heard him do it one day). And he likes to "sing." Where has my baby gone?
5. New clothes delivery!!! My Lilly order came in and I was so pleased with my purchases! Also, how cute are these flats from the Gap Outlet?!
If you'd like a notification of when the link-ups post, you can follow along on GFC (click link or click button sidebar), Bloglovin' (click link or click button on sidebar), or email by entering your email address here:
Enter your email address:
How's YOUR week been? Find any good deals
? Have something totally awesome happen? Let me know in the comments below!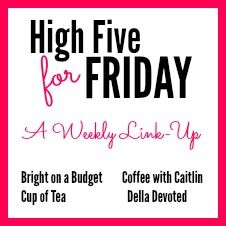 <div class="bright-on-a-budget-button" style="width: 200px; margin: 0 auto;">
<a href="https://www.brightonabudget.com" rel="nofollow">
<img src="http://i40.photobucket.com/albums/e232/coffeewithcaitlin/h54f2_zpsc7e1f4e7.jpg" alt="Bright on a Budget" width="200″ height="200″ />