TGIF and welcome to H54F!!!
Each week, H54F will feature a blogger who has linked up the week before. This week's featured blogger is Kate from Green Fashionista. Kate blogs about a variety of things, from fashion to travel reviews and home decor. She has an adorable doggy named Roxy, who just happens to be featured in last week's H54F post! Oh, and she just finished out an annual pass to Disney–how fun is that?!
Now, let's recap the week:
1. Things have been quiet on the blog this week, resulting in my posting just twice instead of my usually 3 times. There's been a lot going on, but I'm happy to share that our house is pending sale! After 6 months of being on the market FSBO, we signed a sales contract on it last weekend and the sale is set to close pretty quickly. . .
2. . . .which means we are buying another house! We signed a contract on another home this week and are looking to close on the transaction in about 2.5 weeks. If you pray, please say a little prayer for my family as we navigate this process. I'll be sharing about our experiences on the blog after everything takes place.
3. I spent the weekend in the western/flat part of the state with a great group of girls! One of my best friends/partner-in-crime from law school is getting married this summer, so we had some bridesmaid dress shopping to do! We had a wonderful brunch at Wild Eggs before heading out shopping, and were even able to go with Ashley to pick up her wedding dress. She is going to be a gorgeous bride!!!
4. I went out to dinner with my boys last night. Kane thinks he's a big boy and, as such, should sit in the booth or at the table. Shortly after this pic was taken, however, he dropped his paci behind the booth and we had a complete meltdown on our hands:/
5. After years of failure, I have finally mastered the perfect red lip for myself! I shared the details earlier in the week, and you can find them here.
If you'd like a notification of when the link-ups post, you can follow along on GFC (click link or click button sidebar), Bloglovin' (click link or click button on sidebar), or email by entering your email address here:
Enter your email address:
How's YOUR week been? Find any good deals
? Have something totally awesome happen? Let me know in the comments below!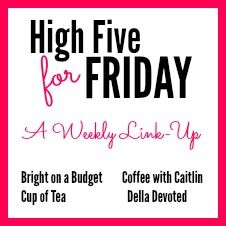 <div class="bright-on-a-budget-button" style="width: 200px; margin: 0 auto;">
<a href="https://www.brightonabudget.com" rel="nofollow">
<img src="http://i40.photobucket.com/albums/e232/coffeewithcaitlin/h54f2_zpsc7e1f4e7.jpg" alt="Bright on a Budget" width="200″ height="200″ />