TGIF and welcome to High Five for Friday! Caitlin at Coffee with Caitlin, Della at Della Devoted, Katie at Cup of Tea, and myself want to welcome you to the link-up–thanks for stopping by!
This week's featured blogger is Becky from BYBMG. Becky is a middle school teacher, wife, and mommy, with two boys of her own at home and one on the way! Her blog is full of fashion and life in general. Recently, she became a Jamberry consultant, so hit her up if you need any:) Becky and I have been going through this whole house mess/roller coaster together, and she announced on last week's H54F post that they sold their house (see, I told you we were going through it together)! Oh, and be sure to check out the Tuesday Talk link-up that she co-hosts.
Now let's recap my favorite things about the week:
1. My Kindle has really been put to use over the last week, especially last weekend. I read Marie Force's Fatal Scandal, and have otherwise been reading Kathleen Brooks' Women of Power series (the 1st one is currently free).
2. We finally got a good snow! I wish we would have gotten the snow around Christmas, but I was excited to see all 4″ of snow anyways. Kane really enjoyed playing out in the snow, and even had to eat a handful of it. And he wouldn't keep his gloves son.
3. I've fallen asleep way early several times this week. On Saturday night, I was asleep a little after 9 p.m. I know, I'm clearly old now, but it was fabulous! Sometimes you just need to catch up on your rest.
4. I'm so happy that Justified is back on TV!!! I'm a little sad that it's in its final season, but I can't wait to see how it ends. I'm from eastern Kentucky, so the show really hits home.
5. Target clearance for the win! Seriously, though–if you haven't checked out Target's clearance, do yourself a favor and stop by the store. Be sure to use the Cartwheel app coupon for an extra 20% clearance clothes and accessories. On a quick lunch run to Target (in an attempt to de-stress from the whole house-buying situation) I was able to pick up this gingham shirt I'd had my eye on for the past couple of months for $12.86! I snagged the shoes for less than $7 a couple of weeks ago.
Speaking of Target, we have 2 in Lexington, so of course I hit up the other Target that evening to check out their clearance too. I had Kane with me, and the only time he wanted me to put him down was to get a big bag of chips by the register. Most kids cry for toys, but mine wanted Lays. He had to take them in the restaurant we went to afterwards, so there he was dragging a big bag of Wavy Lays through Roosters.
If you'd like a notification of when the link-ups post, you can follow along on GFC (click link or click button sidebar), Bloglovin' (click link or click button on sidebar), or email by entering your email address here:
Enter your email address:
How's YOUR week been? Find any good deals
? Have something totally awesome happen? Let me know in the comments below!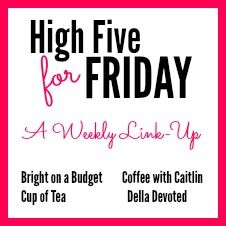 <div class="bright-on-a-budget-button" style="width: 200px; margin: 0 auto;">
<a href="https://www.brightonabudget.com" rel="nofollow">
<img src="http://i40.photobucket.com/albums/e232/coffeewithcaitlin/h54f2_zpsc7e1f4e7.jpg" alt="Bright on a Budget" width="200″ height="200″ />