Welcome to the new home of High Five for Friday – hosted by Tif, Katie, Caitlin, and Della! A HUGE thank you to Lauren at Lauren Elizabeth, who has been hosting this link up forever! And thanks to all of you who have decided to continue to pop over to join us! You can read more about our announcement here. And if you're new to the blog altogether, you can head over here to get to know me a little better.

Fellow bloggers – ready to join in the link up AND be automatically entered to win a $!00 Target giftcard? Scroll to the end of this post to read what to do. If you're a #H54F regular, it's business as usual, and you know what to do!

Now, let's get on with the normal H54F show:
1. Obviously, #1 on this week's H54F is that we're the new home of H54F! We're so excited to be hosting. I totally did a happy dance in my office when I got the email from Lauren!!! I've found some awesome blogs (including those of my 3 co-hostesses–seriously, check them out!) and made some awesome friends. Blogging is all about community, and I love my community that's grown-up around me linking up for H54F! The 4 of us
actually found each other's blogs and became friends thanks to the H54F link up, so it's very special to us. Now, Lauren has graciously passed the torch on to us, and we're hoping we do it justice.
2.
Chauncey and I celebrated 12 years as a couple on Wednesday! 12 years!!! That makes me feel older than the guy who helped me out in Target yesterday (that's a story for another time.haha). We've been together since our sophomore/junior year of high school, which is almost half of our lives at this point! I will say that 12 years ago, neither of us dreamed of where we would be at now. It's amazing what you can accomplish together as a couple!

3. I FINALLY GOT TO HAVE DINNER AT THE LOCAL CHEESECAKE FACTORY! In case you've not kept up on my Cheesecake Factory saga, let me catch you up to speed. One opened in Lex in October. I tried to go for my birthday in November, but it was a 2.5 hour wait. This week, I finally got to try it out! I went out with a group of friends I hadn't seen in a while, and we had an AWESOME time! I bypassed my normal red velvet cheesecake to try out the cookie dough one, and I as not disappointed. Yum!
4. For us Lilly fans, it's been a big week. First, the After Party Sale. Then, they announce that the Target collaboration of my dreams is coming true–Lilly for Target! Now, while some fans are upset about this, I'm so happy! I love Target, and I love Lilly! They have some really cute stuff coming out, and you can get tons of sneakpeeks here! How will I wait til April?! Kate Spade–girl, I got my eyes on you now!
My sale finds! I hope they arrive today!
5. There was quite a bit of relaxing going on this past weekend! I read several books, and had an all-around great time! Gizmo clearly did too! I wish I could get that comfortable! (And let's be honest–in keeping with tLauren Elizabeth tradition, every H54F needs a cat post sometimes!)
HOW TO LINK-UP
Fellow bloggers – ready to join in the link up? In case there's anyone new to the game, here's what you do! Just write a blog post about 5 things that made this week awesome! It could be 5 memories, 5 pairs of shoes you wore, 5 "good job" comments you got, or 5 pieces of chocolate you scarfed down when no one was looking.

Add your link to your blog post down below. Then be sure to link back to the link up by grabbing the H54F button!

Caitlin, Tif, Della and I want to put our own spin on H54F. We are planning on visiting each and every one of you and saying hello! We want to get to know you all, and find some new blogs. Each week we'll be featuring one of you as our blog pick of the week.

Also, bloggers, you have a chance to enter to win $100 Target gift card! (open to US residents only – sorry!!) Simply link up to this week's H54F, and then we will randomly select one winner using a random number generator. Contest ends at 11:59 p.m. EST on Friday, January 9, 2015. By linking up, bloggers agree to the full terms and conditions, which can be found here.

Thanks for stopping by! If you're a veteran H54F-er, we hope you'll continue to link-up. If you're new to the H54F game, we hope you'll join in every week! Happy reading!
If you'd like a notification of when the link-ups post, you can follow along on GFC (click link or click button sidebar), Bloglovin' (click link or click button on sidebar), or email by entering your email address here:
Enter your email address:
Delivered by FeedBurner
How's YOUR week been? Find any good deals
? Have something totally awesome happen? Let me know in the comments below!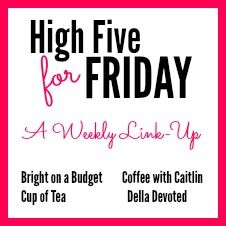 <div class="bright-on-a-budget-button" style="width: 200px; margin: 0 auto;">
<a href="https://www.brightonabudget.com" rel="nofollow">
<img src="http://i40.photobucket.com/albums/e232/coffeewithcaitlin/h54f2_zpsc7e1f4e7.jpg" alt="Bright on a Budget" width="200″ height="200″ />
</a>
</div>