TGIF and welcome to High Five for Friday! Caitlin at Coffee with Caitlin, Della at Della Devoted, Katie at Cup of Tea, and myself want to welcome you to the link-up–thanks for stopping by
This week's featured blogger is Heather from My Little Happily Ever After. Heather and I like many of the same things, such as beaches, reading, and subscription boxes (you all know my weakness for subscription boxes). She blogs about a little bit of everything, and her posts are always interesting and fun, like this post about London and Ireland. Her H54F post from last week include Harry Potter World, which I love!!!




Now let's recap my favorite things about the week:

1(a). I found the Red Velvet Oreos!!! These bad boys have been teased on FB for months. Some claimed they were a myth, but I believed. . . and here they are! They are absolutely delicious. I hear that they're hard to find in some places, so get them while you can.




1(b). I also found the mint skinny jeans I've been looking for since 2013! Mint skinnies were big when I was pregnant in 2013, but I didn't want to shell out for a maternity pair. So I waited to look until after I was pregnant and couldn't find them anywhere. Then I looked last spring/summer and couldn't find them either:( I had given up hope until I walked into Old Navy with some Super Cash on Saturday and there they were, in all their pastel glory, right inside the door.

2. Saturday was a me day. Chauncey watched Kane while I relaxed. In addition to the Old Navy stop, I got an 1.5 hour massage at Massage Envy (thanks to some giftcards from my sweet hubby) and had my hair trimmed. I love Kane with all my heart, but it's hard to take a toddler anywhere. . . so it was nice to be able to do all of these things without having to worry about what he was getting into.




3. I had lunch with some of my law school friends on Wednesday. Having lunch with my law school friends is probably the the only thing I miss about law school. It was nice to catch up with everyone.

4. We are closing on both house transactions next week (so thankful and blessed), so we're trying to pack everything up. Since I hate to cook, I started in the room I used the least–the kitchen. Some of you all have asked that I share my packing tips, so I did a post yesterday about how to pack dinnerware in a very inexpensive way! No one can pack up a house like someone who used to live in a dorm.


5. Kane loves to watch Mickey Mouse Clubhouse. This week, he started bringing the remote to us and saying "Icky"when he wanted to watch it. It's too cute!

If you'd like a notification of when the link-ups post, you can follow along on GFC (click link or click button sidebar), Bloglovin' (click link or click button on sidebar), or email by entering your email address here:
Enter your email address:
How's YOUR week been? Find any good deals
? Have something totally awesome happen? Let me know in the comments below!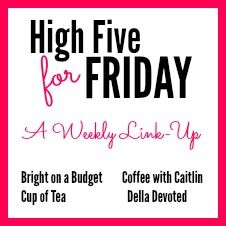 <div class="bright-on-a-budget-button" style="width: 200px; margin: 0 auto;">
<a href="https://www.brightonabudget.com" rel="nofollow">
<img src="http://i40.photobucket.com/albums/e232/coffeewithcaitlin/h54f2_zpsc7e1f4e7.jpg" alt="Bright on a Budget" width="200″ height="200″ />