TGIF and welcome to High Five for Friday! Caitlin at Coffee with Caitlin, Della at Della Devoted, Katie at Cup of Tea, and myself want to welcome you to the link-up–thanks for stopping by
This week's featured blogger is Paige from Reasons to Come Home. Paige has a degree in Financial Management and is a numbers sorta girl. Her and her hubby are parents to two adorable furbabies, Einstein and Hampton, and she's very strong in her faith:). She blogs about everyday life and making her house into a home. She just had an adorable post about a Vintage Baby Girl Shower that turned out amazing! On last week's H54F post, she shared 5 items she needed to buy so that she could work on getting fit.



Now let's recap my favorite things about the week:

1, My mom and mother-in-law came down last weekend to help us pack! They're the best:) Packing is definitely not fun, but it was nice to spend some time with them too. On a side note, my house looks like Miley Cyrus was here with a wrecking ball. . .twice. Moving commences today, and will be done by Sunday. Blogging will hopefully return to a normal schedule next week.
Of course Kane had his mouth full.haha
2, Since the moms were here, Chauncey and I had a date night on Saturday night! We went out to Malone's, which is one of our favorite local restaurants. We also were seated at the complimentary dessert table!!! In case you aren't familiar with this custom, some restaurants designate certain tables as free dessert tables when they're seated in high traffic areas (usually close to the kitchen). Dear Malone's, you can seat me at that table anytime! We had a giant cookie topped with ice cream and two flavors of syrup. And we made a quick trip to Target afterwards. I love that man:)



3. We finally got all of the details worked out on the closing of both houses, and those happen TODAY! I can't believe the day has finally come. We're so blessed to have the opportunity to purchase the house we are, and God has really put everything into place for us. Seriously. It was a huge leap of faith when we signed the contract to sell our home, because we had a quick turnaround and no place to go. The house we are purchasing went on the market the very day we signed the other contract, and we had it under contract shortly thereafter. Ever obstacle that has been in the way has worked itself out. I'm so thankful to God for working everything out. Be sure to follow along on Instagram today to take a peek at the new house!

4. Speaking of the new house, we went over to clean it on Wednesday. As I was wiping down the cabinets in the bathrooms, I came to the realization that I could not handle the gold fixtures any longer. So as soon as we got back home that evening, I got on Amazon to fixture shop. I found some Allied Brass 24-in. towel bars on sale for around 92% off (org. $108, on sale for $9.96)!!! I scored the last 2 sold directly by Amazon. Thanks, Amazon!

5. If you're looking for some Valentine's Day outfit inspiration, check out this week's Wardrobe Re-Wear post. I'm featuring an adorable shirtdress from Old Navy as both a dress and a shirt. I hope everyone has a fabulous Valentine's Day!



If you'd like a notification of when the link-ups post, you can follow along on GFC (click link or click button sidebar), Bloglovin' (click link or click button on sidebar), or email by entering your email address here:
Enter your email address:
How's YOUR week been? Find any good deals
? Have something totally awesome happen? Let me know in the comments below!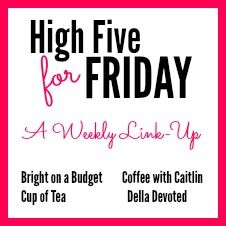 <div class="bright-on-a-budget-button" style="width: 200px; margin: 0 auto;">
<a href="https://www.brightonabudget.com" rel="nofollow">
<img src="http://i40.photobucket.com/albums/e232/coffeewithcaitlin/h54f2_zpsc7e1f4e7.jpg" alt="Bright on a Budget" width="200″ height="200″ />