TGIF and welcome to High Five for Friday! Caitlin at Coffee with Caitlin, Della at Della Devoted, Katie at Cup of Tea, and myself want to welcome you to the link-up–thanks for stopping by
This week's featured blogger is Jayme from Simply, Always, Forever. Jayme is a lifestyle blogger who is also a teacher, amongst other things:). She loves coffee, books, and Netflix (like most of us do!). She posted this awesome idea for a Valentine's Day gift for her hubby, and I'm definitely going to have to remember it. Chauncey would absolutely love it!



Now let's recap my favorite things about the week:

1. WE CLOSED ON BOTH HOUSES! We were so blessed to have been able to sell our townhouse and purchase our next house at exactly the same time. It has been a very stressful process, though, so I'm glad to have the i's dotted and the t's crossed on all the documents. We were able to get moved in right before Snowmageddon hit. We beat it by about 12 hours:) It was really sad handing over the keys to our townhouse, but I'm ready for the next adventure.
Somewhere around 15″ of snow.
2. Speaking of Snowmageddon, I took Kane outside to play in it for all of about 3 minutes–it was so cold and the snow came up almost to his waist! He was unsure at first but then was laughing about it.
3. I really like some of the Nate Berkus collection for Target, especially the light yellow bathroom pieces. I was in Target stopping up on some staples (like 50% off Valentine's Day candy) and looking for a snow shovel (yea, out of stock) when a little end-rack clearance section caught my eye. I was able to get 3 of the bath mats/rugs for around $15, which is less than I would have paid for just 1 of them at full price!
4. In the middle of all the moving, Chauncey and I blocked off some time on Saturday night to go out for Valentine's Day! We went to the movies to watch 50 Shades of Gray and then headed out to dinner at Ted's Montana Grill. It was so nice to be able to relax and actually talk-talk. We lingered over dessert before heading home to pick up Kane.
Dr. Love enjoyed his dancing hippo! It sings, "I like big hugs and I cannot lie."
5. I've been using some new foundation and mascara, and I'm in love. The best part about it is that they're both drugstore brands, and you can pick them both up for $20 or less with coupons!!! You can check out my review here.
If you'd like a notification of when the link-ups post, you can follow along on GFC (click link or click button sidebar), Bloglovin' (click link or click button on sidebar), or email by entering your email address here:
Enter your email address:
How's YOUR week been? Find any good deals
? Have something totally awesome happen? Let me know in the comments below!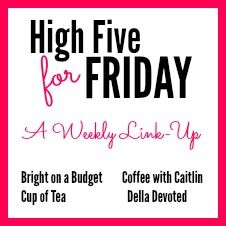 <div class="bright-on-a-budget-button" style="width: 200px; margin: 0 auto;">
<a href="https://www.brightonabudget.com" rel="nofollow">
<img src="http://i40.photobucket.com/albums/e232/coffeewithcaitlin/h54f2_zpsc7e1f4e7.jpg" alt="Bright on a Budget" width="200″ height="200″ />