TGIF, H54F-ers!!! Caitlin at Coffee with Caitlin, Della at Della Devoted, Katie at Cup of Tea, and myself want to welcome you to the link-up and the weekend. We made it!!!
This week's featured bloggers are M and B from The Sequin Notebook! I've been following these girls' blog for quite awhile now, as I discovered them on the linkup when Lauren Elizabeth was hosting. They tag-team the posts, and their blog is a hodge-podge of all kinds of cuteness. On last week's H54F post, B shared her beach vacation (I'm seriously jealous). Be sure to check out their current giveaway!
Now, let's recap the week:
1. I won an awesome giveaway on Instagram! I can't wait to share all of the goodies with you guys. I received my 1st item in the mail–a pair of Preppy Park Ears from Sail Bows. I love Disney, and I love Lilly Pulitzer, so these are perfect! Be sure to check out the rest of the goodies in the shop. Ooo, and I also received my Mommy Hook in the mail that I won from my friend Rachel over at Garay Treasures🙂
2. We purchased an over-the-range microwave from Best Buy for our kitchen. I can't believe this house didn't already have one. Then again, maybe the previous owners actually cooked instead of just reheating leftovers?haha. If you're in the market for any electronics or appliances and are looking for a great deal, be sure to check out the open box items at your local Best Buy. You can find these online by searching for your local store, selecting a store, and then clicking on the "Open Box & Clearance Items" tab on the left side of the page. We scored a $259 for a little over $100 off!!! Also, my current Macbook Air was an open box item.
3. The snow is melting! I can't wait for it to clear up outside so I can shoot some spring outfit photos:)
4. One of my oldest best friends (oldest as in we go way-back) is having a birthday today! I treated Aimes to a good meal at Milano Cucina yesterday, and she treated me to some good conversation. Happy birthday!!!
5. Kane, my mom, and I were able to go visit my aunt in the hospital. Her name is Mary, but I call her Sis (and she's Kane's Gran Sis). She's fighting cancer and has had a rough week. I'm so glad that my work schedule this week allowed me to be in eastern Kentucky so we could swing by to see her. If you don't mind, please send prayers and good thoughts her way.
If you'd like a notification of when the link-ups post, you can follow along on GFC (click link or click button sidebar), Bloglovin' (click link or click button on sidebar), or email by entering your email address here:
Enter your email address:
How's YOUR week been? Find any good deals
? Have something totally awesome happen? Let me know in the comments below!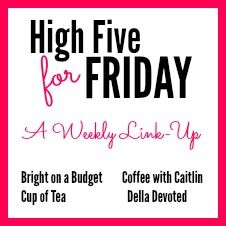 <div class="bright-on-a-budget-button" style="width: 200px; margin: 0 auto;">
<a href="https://www.brightonabudget.com" rel="nofollow">
<img src="http://i40.photobucket.com/albums/e232/coffeewithcaitlin/h54f2_zpsc7e1f4e7.jpg" alt="Bright on a Budget" width="200″ height="200″ />