TGIF, H54F-ers!!! Caitlin at Coffee with Caitlin, Della at Della Devoted, Katie at Cup of Tea, and myself want to welcome you to the link-up and the weekend. We made it!!!
This week's featured blogger is Chelsea over at Red Velvet Rooster. Chelsea's blog name really caught my attention, because I love red velvet anything. . .evidently, she does too:) She has this adorable little boy, and blogs about life and food. Trust me, there's all kinds of yummy things on her blog. Last week's H54F post included some 70 degree temps (so jealous) and an adorable bunny garland.
Now, let's recap the week:
1. This post is going to start out a little bit differently and a little unexpected. My aunt (or Sis, as I called her), who I was very close to, passed away yesterday after a long battle with cancer. Now, this is definitely not on my list of great things about this week, but she's on my list of great things about my entire life and deserves to be celebrated. She was a big supporter of this blog, and she shared most of my posts on her FB. She always believed in me, and was ready to go after anyone I ever had a problem with. . .she was a spitfire to say the least. So this post is dedicated to her–love you always, Sis. A special thank you to all of my readers and blogger friends who have kept her in their thoughts and prayers since I posted that she was having trouble a few weeks ago. I truly appreciate all of the support from you wonderful people!
PS–She would totally have gotten a kick about being on the blog.
So even though this has been a terrible week, I'm still sharing my favorite things about the rest of the week, because life is too short not to appreciate the things that make us happy.
2. Spring has sprung!!! Yay for warmer weather, no jackets, and fun spring shoes, like these.
3. My teeth are reasonably white, but I've wanted to use some Crest Whitestrips for forever. I've had to hold off, thought, because I was pregnant and then I was breastfeeding. Since I stopped breastfeeding in December, I finally ordered the 3D Luxe Whitestrips. The box came with 2 samples of the 1-hour express Whitestrips, so I used one of those first. I'm in love with the results and can't wait to use the Luxe ones.
Speaking of breastfeeding, I finally sat down and wrote a post about breastfeeding. If you're a new mom, or momma-to-be, I shared my must-haves for nursing moms here.
4. The new house is slowly coming together. We now have a garage door opener and an over-the-range microwave installed at the house. Guys, it's hard to survive without a microwave when you don't cook.haha Oh, and Target is having an amazing home sale. We got this turquoise console table (reg $149) for $90 after the 30% discount, $10 off a $50 home purchase with code DECORATE, and my 5% Target RedCard discount.
5. The Cats are 31-0 for the season!!!! Now on the SEC tourney this weekend. GO BIG BLUE!!!
Follow along on GFC (click link or click button sidebar), Bloglovin' (click link or click button on sidebar), or email by entering your email address here:
Enter your email address: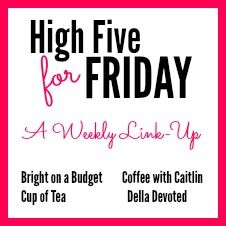 <div class="bright-on-a-budget-button" style="width: 200px; margin: 0 auto;">
<a href="https://www.brightonabudget.com" rel="nofollow">
<img src="http://i40.photobucket.com/albums/e232/coffeewithcaitlin/h54f2_zpsc7e1f4e7.jpg" alt="Bright on a Budget" width="200″ height="200″ />