HEADS UP: Due to a coding issue, 2 linkups were posted this week. On the 1st link-up below, links 1-62 were from the previous week, with links 63+ BEING NEW LINKS. Please scroll down to the second link-up as well, which contains ALL NEW NEW LINKS!!!

TGIF, H54F-ers!!! Caitlin at Coffee with Caitlin, Della at Della Devoted, Katie at Cup of Tea, and myself want to welcome you to the link-up and the weekend. We made it!!!
This week's featured blogger is Andrea from the Pineapple Cake. The tagline for the blog is "a recipe blog with a side of fashion, travel, and life down under." Andrea is from Florida but lives in Australia now. She refers to her recipes as "experiments" (although these cookies look quite tasty) and credits her fashion to an epiphany in 2012 (we've all had some of those!). This week, she has a great round-up of favorites on her H54F post, so be sure to check her out:)
Now, let's recap my favorite moments of the week:
1. I SURVIVED TAX DAY! Seriously. I dread it every year. I used to love it. Then I graduated law school and expected a nice refund. . . I got a nice little tax bill instead.haha Now I'm happy to break even and absolutely ecstatic when we get a little money back, which we did this year. So long as I don't have to pay extra, I don't care.
2. I needed to shoot an outfit for this month's How I Style It link-up, so we went to one of the local parks. Kane had a blast playing. . .until it was time to take the outfit pictures. Total meltdown. But we still had an awesome time beforehand! He's such a little daredevil. He loves going down the slide on his belly and all that.
3. We also had a family dinner date at Roosters, where Chauncey was letting Kane take selfies. In the past few weeks, he's starting saying "CCCHHHHHEEEESSSEEE!!!!" and smiling anytime he sees a camera. I was uploading pics from my camera the other night and he wanted some pictures taken then. SO CUTE!
4. The Lilly for Target collection releases on Sunday, so I've spent the week plotting with my partners-in-crime. Katie and I have been scoping the selection and talking with Della about the giveaway we're planning. . .what will it be? Well, it all depends on what we can get our hands on, but the plan is for a giveaway on the blogs and on IG. Tune in next week for more info. In the meantime, you can check out mine and Katie's picks for the release!
Everything in this pic is $38 or less! Click the link above to get the details.
5. Chauncey and I watched the series finale of Justified. While I'm so sad to see the show end, it was a very fitting ending that we enjoyed watching. Classic Raylan and classic Boyd right to the very end!
Thanks for joining us for H54F! Be sure to link-up below and/or let us know how your week's been in the comments!

Follow along on GFC (click link or click button sidebar), Bloglovin' (click link or click button on sidebar), or email (click here).


BLOGGERS: Fellow bloggers–ready to join in the link-up? Just write a blog post about 5 things that made this week! Add your link to your blog post down below. We ask that you follow each co-host on social media and link back to the link-up. You can even grab the H54F button to add to your post!
Don't forget to visit your fellow linkers and say hi! We recommend visiting the featured blogger + 3 others. Drop 'em a comment to let them know that you're visiting from H54F so that they can visit you back:)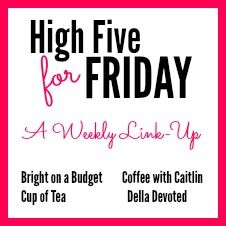 <div class="bright-on-a-budget-button" style="width: 200px; margin: 0 auto;">
<a href="https://www.brightonabudget.com" rel="nofollow">
<img src="http://i40.photobucket.com/albums/e232/coffeewithcaitlin/h54f2_zpsc7e1f4e7.jpg" alt="Bright on a Budget" width="200″ height="200″ />
As always, I'm also linking up with The Diary of a Real Housewife, Meet at the Barre, A. Liz Adventures, and The Farmer's Wife. And Erica at Looking to the Stars is doing a Friday linkup called Friday Feelings if you'd like to join in!
—