TGIF, H54F-ers!!! Caitlin at Coffee with Caitlin, Della at Della Devoted, Katie at Cup of Tea, and myself want to welcome you to the link-up and the weekend. We made it!!!
This week's featured blogger is Anne from In Residence. Anne works from home as an editor and is married to a doctor who is finishing up his residency. Anne blogs about a little bit of everything, including style and life, especially being a mommy (she has an adorable little guy!). She just posted this incredibly easy chalkboard paint coffee table that would be so much fun, whether you have a little one or want a fun conversation piece!
Now, let's recap my favorite moments of the week:
1. I survived Lilly for Target. Seriously, is there a t-shirt for that yet? You can read my recap here, and don't forget to enter the giveaway that ends at midnight tonight!
2. Sometimes, you just need a night out with the girls. I'm very fortunate that my hubby's work family is fun (which is an understatement), so I headed out with some of them last night. We tried out Newk's Eatery and then headed to the Cheesecake Factory for dessert. I got the red velvet one–simply divine!!!
3. Kane said "Love you!" to me for the 1st time last Friday. My mom was babysitting him and he wanted to talk on the phone. It absolutely melted my heart.
How sweet is this? Sox is slowly coming around. . .haha
4. If Lilly for Target wasn't enough on Sunday morning, I headed out shopping on Sunday night. I hit up the Clothes Mentor shopping event and scored some awesome Michael Kors flats for $35, then swung by TJ Maxx where I picked up a Kate Spade Saturday wallet I'd had my eye on for a while. The Kate Spade Saturday website recently shut down and all of the stores were closed. I looked for the wallet online on eBay, but it was not to be found. The wallet had some minor cosmetic issues, so I asked if they could adjust the price. 25% price adjustment? Yes, please! Moral of the story: don't be afraid to ask for a discount if an item is flawed!
The wallet with my new favorite snacks!
5. I also had dinner with one of my best friends, who's like a sister to me, and her daughter on Friday night at my favorite restaurant back home. Our kids were a little rambunctious, but what else do you expect?!haha It was nice to catch-up over good food. We live 2.5 hours apart, so it doesn't happen very often.
Also, I'm back to my regularly blogging schedule, meaning I post three times a week–2 regular posts and my H54F post. It's nice to be back to it! Anyways, here's a post featuring this sweet Rebecca Minkoff Mini Mac bag I won from awesome bloggers. There's also a link to score the same bag for 30% off! So if you've had your eye on one, they have several different colors on sale right now!!!!
1st photoshoot back home in eastern Kentucky:)
Thanks for joining us for H54F! Be sure to link-up below and/or let us know how your week's been in the comments!

Follow along on GFC (click link or click button sidebar), Bloglovin' (click link or click button on sidebar), or email (click here). Also, tweet us or use #H54F and we'll retweet your post!


BLOGGERS: Fellow bloggers–ready to join in the link-up? Just write a blog post about 5 things that made this week! Add your link to your blog post down below. We ask that you follow each co-host on social media and link back to the link-up. You can even grab the H54F button to add to your post!
Don't forget to visit your fellow linkers and say hi! We recommend visiting the featured blogger + 3 others. Drop 'em a comment to let them know that you're visiting from H54F so that they can visit you back:)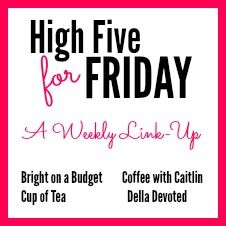 <div class="bright-on-a-budget-button" style="width: 200px; margin: 0 auto;">
<a href="https://www.brightonabudget.com" rel="nofollow">
<img src="http://i40.photobucket.com/albums/e232/coffeewithcaitlin/h54f2_zpsc7e1f4e7.jpg" alt="Bright on a Budget" width="200″ height="200″ />