TGIF, H54F-ers!!! Caitlin at Coffee with Caitlin, Della at Della Devoted, Katie at Cup of Tea, and myself want to welcome you to the link-up and the weekend. We made it!!!

This week's featured blogger is Whitney from Come Home for Comfort. Whitney is a fellow UK fan (GO CATS!!!) and I've really enjoyed getting to know her since we started following each other quite some time ago. She's got a little something for everyone–organization, DIY, style, recipes, and words of wisdom. I love her recent tutorial on a DIY Patterned Tray–it's cheap + easy! Oh, and she has 2 pretty awesome cats. You know we love some cat ladies around here!


Now to recap the week:

I don't have a top 5 written up this week. Let's be honest. . .I'm typing this sitting in an amazing hotel room (#6 on the list) in Vegas with 30 of my closest friends. It's 5 a.m. EST Friday morning (2 a.m. here) and I haven't been to bed yet. Needless to say, it's been a busy week preparing for vacation but as soon as I got on the plan, the week got a whole lot better:) Be sure to follow along on Instagram to see the adventures!!!

That said, a H54F post would be very remiss if it didn't mention Kane:) I really enjoyed spending time with Kane before we left town. I miss him already, but I know he's loving wreaking havoc back home with his grandparents. I took him out to eat this week and he loved it. He did not want to leave the play place.



I'm taking a break for the Memorial Day holiday, but a new post will be up next Wednesday! And a true H54F post will follow that.

Don't forget to enter the $120 Target Giftcard giveaway!
Thanks for joining us for H54F! Be sure to link-up below and/or let us know how your week's been in the comments!

Follow along on GFC (click link or click button sidebar), Bloglovin' (click link or click button on sidebar), or email (click here). Also, tweet us or use #H54F and we'll retweet your post!


BLOGGERS: Fellow bloggers–ready to join in the link-up? Just write a blog post about 5 things that made this week! Add your link to your blog post down below. We ask that you follow each co-host on social media and link back to the link-up. You can even grab the H54F button to add to your post!
Don't forget to visit your fellow linkers and say hi! We recommend visiting the featured blogger + 3 others. Drop 'em a comment to let them know that you're visiting from H54F so that they can visit you back:)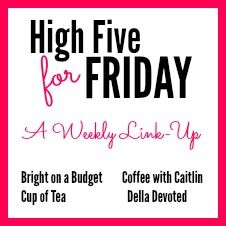 <div class="bright-on-a-budget-button" style="width: 200px; margin: 0 auto;">
<a href="https://www.brightonabudget.com" rel="nofollow">
<img src="http://i40.photobucket.com/albums/e232/coffeewithcaitlin/h54f2_zpsc7e1f4e7.jpg" alt="Bright on a Budget" width="200″ height="200″ />