TGIF, H54F-ers!!! Caitlin at Coffee with Caitlin, Della at Della Devoted, Katie at Cup of Tea, and myself want to welcome you to the link-up and the weekend. We made it!!!

This week's featured blogger is my good friend Rachel from Garay Treasures. Rachel is a life and style blogger that hosts the Bloggers Who Inspire Me linkup every Tuesday. She is such a sweet and inspiring person herself. I just read her latest post about Glasses and Confidence. It really resonated with me because I used to feel like an ugly duckling with glasses on, but now I feel smart and pretty in them:) Love her!

I've been in recovery mode this past week because it turns out my utter exhaustion wasn't just jet lag–I've been recuperating from strep:( There's still been some high notes, though, so let's recap the best things about my week:

1. I went to Nashville for my friend Ashley's bachelorette party. It was the first time I'd ever been to Nashville! We stayed at the Home2 Suites by Hilton near Vandy, and it was such an adorable hotel! I highly recommend it! The staff were all excellent and they have a shuttle that will go anywhere within 3 miles of the hotel. The night started off at Dick's Last Resort and progressed from there.
2. I finally scored these New Balance tennis shoes (in Pale Sandstone–no longer available) from J. Crew that I have been coveting for more than a month! I haven't purchased new sneakers in 7 years or more [insert gasp], so I was due a pair. They were originally $80 and ineligible for promo codes, and even though it's rare for me to pay full price for anything, I considered it. I couldn't get free shipping, however, so I decided it was just too much to spend. Fast forward to Monday, when I saw 3 sizes of the shoes left, 1 of which was my size, and they were on sale for $70.00. I was going to buy but once again no shipping. I decided to roll the dice and wait to see if J. Crew would have free shipping in the next couple of days, since their sales cycle. Lo and behold, when I check this morning, those shoes were cute down to $56 with an extra 30% off and FREE SHIPPING (using promo code SHOPNOW). I got those bad boys for around $43 after tax! #brightonabudgetwin

3. It was so nice to spend time with Kane this week! Here he is "watering" some plants. I can't believe he turns 2 on Sunday! Where has my baby gone to?! Oh, and he ahas to have the keys in his hand before we can walk out the door at daycare.haha




4. Last night I got to sit down and catch up on blog stuff. It was nice to respond back to comments, do some blog reading, and do some blogging of my own. I finally sat down and wrote the next post in my Bright Tip for Beginning Bloggers series about Why I Switched to Disqus for blog commenting. In all honesty, it's for beginning and beyond–really, anyone who is just not satisfied with their current commenting situation.




5. Kane and I walked around the neighborhood on Thursday night. It was nice to get out and exercise. We saw this sidewalk chalk drawing on the way. I thought it was just too sweet, and too awesome a message not to share!
And in case you missed my post about the perfect LBD for this party season, you can catch it here.
***Don't forget–the next How I Style It linkup goes live next Wednesday, 06/10, and it's all about the basic tees for #teedupstyle***
Thanks for joining us for H54F! Be sure to link-up below and/or let us know how your week's been in the comments!

Follow along on GFC (click link or click button sidebar), Bloglovin' (click link or click button on sidebar), or email (click here). Also, tweet us or use #H54F and we'll retweet your post!


BLOGGERS: Fellow bloggers–ready to join in the link-up? Just write a blog post about 5 things that made this week! Add your link to your blog post down below. We ask that you follow each co-host on social media and link back to the link-up. You can even grab the H54F button to add to your post!
Don't forget to visit your fellow linkers and say hi! We recommend visiting the featured blogger + 3 others. Drop 'em a comment to let them know that you're visiting from H54F so that they can visit you back:)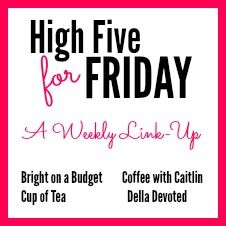 <div class="bright-on-a-budget-button" style="width: 200px; margin: 0 auto;">
<a href="https://www.brightonabudget.com" rel="nofollow">
<img src="http://i40.photobucket.com/albums/e232/coffeewithcaitlin/h54f2_zpsc7e1f4e7.jpg" alt="Bright on a Budget" width="200″ height="200″ />
—