TGIF, H54F-ers!!! Caitlin at Coffee with Caitlin, Della at Della Devoted, Katie at Cup of Tea, and myself want to welcome you to the link-up and the weekend. We made it!!!

This week's featured blogger is my blogging buddy Kat from Lemonade Linings! And, like many other of my buddies, I met Kat through my favorite linkup many moons ago:) Kat and I actually just missed each other in Vegas. . .she flew home earlier in the day than I arrived. Kat is a freelance writer, and she has the most adorable doggie named Bert. She posts on a range of topics similar to what I do, and she includes lots of professional advice that's applicable across the board. She just did a "professionally casual" outfit post that I love, since that's how I dress most of the time (thank you for a name to go with it, Kat!). Anyways, be sure to check out her blog and say hi!

Now, let's recap the highlights of my week:

1. Kane had his 2nd birthday party on Saturday. I took cupcakes for his daycare class on Friday since we had his party back home in eastern Kentucky. It was held at the Fun Zone at the local community center and he SUCH a good time. He played non-stop with his friends the entire time. He is a little daredevil and was going all the way to the top of the playplace and sliding down. This momma is going to have her hands full.haha The theme was farm animals and it turned out really, really cute!



2. Kane's actual birthday was Sunday. We came back home to Lexington and took him to dinner at Rooster's. Then we came home and he rode his new balance bike with his little Mickey helmet that he did NOT want to take off. The day was finished off with his favorite Ice Age movie. Turning 2 was a huge success!!!


3. After we moved, I received a book that had a coupon for a free haircut, blowout, and gel manicure from Posh Salon here in Lexington. I can't make it back to my regular stylist (love you, Ginger!) for my in-between trims, so I decided to take advantage of the coupon this week. Both my hair and my nails turned out great. While I can't remember the name of the girl who did my nails, Janna did my hair and I highly recommend her. She listened to what I had to say and kept it to a trim:) Bonus–my nails are now done for the wedding I'm in this weekend, for free.
4. I put all of my CLE (continuing legal education) credits off until the last minute this year, so I had to set through 2 full days of classes. The upside to all that is that they were held downtown, so I was able to hit up some yummy lunch places. I'd especially been wanting to try Pies & Pints for a while, and it was just as delicious as I had hoped it would be! Plus, it had an all-around great vibe. Check it out if you're in downtown Lex sometime.
5. Favorite outfit of the week:
Speaking of favorite outfits, here's this week's style posts in case you missed them:
Thanks for joining us for H54F! Be sure to link-up below and/or let us know how your week's been in the comments!

Follow along on GFC (click link or click button sidebar), Bloglovin' (click link or click button on sidebar), or email (click here). Also, tweet us or use #H54F and we'll retweet your post!


BLOGGERS: Fellow bloggers–ready to join in the link-up? Just write a blog post about 5 things that made this week! Add your link to your blog post down below. We ask that you follow each co-host on social media and link back to the link-up. You can even grab the H54F button to add to your post!
Don't forget to visit your fellow linkers and say hi! We recommend visiting the featured blogger + 3 others. Drop 'em a comment to let them know that you're visiting from H54F so that they can visit you back:)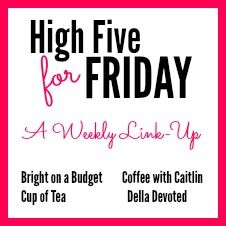 <div class="bright-on-a-budget-button" style="width: 200px; margin: 0 auto;">
<a href="https://www.brightonabudget.com" rel="nofollow">
<img src="http://i40.photobucket.com/albums/e232/coffeewithcaitlin/h54f2_zpsc7e1f4e7.jpg" alt="Bright on a Budget" width="200″ height="200″ />