TGIF, H54F-ers!!! Caitlin at Coffee with Caitlin, Della at Della Devoted, Katie at Cup of Tea, and myself want to welcome you to the link-up and the weekend. We made it!!!

This week's featured blogger is Jess from To Sparkle Punch.

Jess is a lifestyle blogger who mixes in a bit of fashion along the way. She tells a little bit about her inspiring story and explains the meaning behind her blog name here. I really enjoyed her post showing this romper she scored for $11. Oh, and she's showing signs of turning into a cat lady🙂 Speaking of which, the following comments took place on her H54F post last week:

Now, let's recap the highlights of my week:
1. Chauncey and I celebrated SIX years of marriage on Saturday! I was in a wedding on our anniversary and didn't get home until after the day was over, but we went out on a real date to Malone's the next evening while my brother and his girlfriend watched Kane. Chauncey picked me up some crazy daisies, which are some of my favorite flowers:)
2. One of my best friends from law school, Ashley, got married! I've gotten to see her and her hubby's relationship bloom from the beginning, and it was exciting to watch them tie the knot! Ashley was an absolutely gorgeous bride! I pray they have a long, wonderful, and happy marriage:)
3. Chauncey took this week off of work, so we were able to meet for lunch on Wednesday (and hopefully today as well!). When I was in law school and working downtown, I was closer to his office and we had lunch once or twice a week. I miss that, so meeting for lunch this week is a nice break to the work day.
4. I bought my 1st $5 drink at Starbucks, and it was amazing. I never buy from Starbucks because they're just too expensive, but I really wanted to try the new cupcake frappuccino. I highly recommend it. It's definitely not something I would buy all the time, but it was a nice treat, especially when I'd had to sit through a CLE all morning with no breakfast.
5. Early this week, I announced on Bright on a Budget's Facebook page that Bright on a Budget is now listed in the Her Kentucky Blog Directory!!! HerKentucky is a destination site for the "modern Kentucky woman." There are tons of great Kentucky bloggers listed on the directory, and I'm honored to be on it.
Oh, and Kane has been hilarious this week. Since he moved up to the next classroom, his vocabulary is just exploding. Chauncey and I have been cracking up all week as he says new phrases.
To wrap up, here's this week's posts in case you missed them:
Thanks for joining us for H54F! Be sure to link-up below and/or let us know how your week's been in the comments!

Follow along on GFC (click link or click button sidebar), Bloglovin' (click link or click button on sidebar), or email (click here). Also, tweet us or use #H54F and we'll retweet your post!


BLOGGERS: Fellow bloggers–ready to join in the link-up? Just write a blog post about 5 things that made this week! Add your link to your blog post down below. We ask that you follow each co-host on social media and link back to the link-up. You can even grab the H54F button to add to your post!
Don't forget to visit your fellow linkers and say hi! We recommend visiting the featured blogger + 3 others. Drop 'em a comment to let them know that you're visiting from H54F so that they can visit you back:)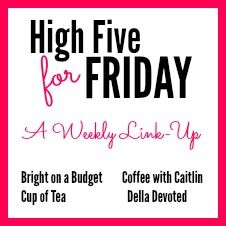 <div class="bright-on-a-budget-button" style="width: 200px; margin: 0 auto;">
<a href="https://www.brightonabudget.com" rel="nofollow">
<img src="http://i40.photobucket.com/albums/e232/coffeewithcaitlin/h54f2_zpsc7e1f4e7.jpg" alt="Bright on a Budget" width="200″ height="200″ />