TGIF, H54F-ers!!! Caitlin at Coffee with Caitlin, Della at Della Devoted, Katie at Cup of Tea, and myself want to welcome you to the link-up and the weekend. We made it!!!


This week's featured blogger is Laura from
Snippets & Snapshots
. Laura is from across the pond. She is a lifestyle blogger who started out by taking a picture a day everyday for a full year. She did a post recently about her "
reverse bucket list
" and I found it to be an interesting approach.
Now, let's recap the week:
1. We celebrated Father's Day in a very low-key way, and it was so nice! This was the 1st weekend I'd been home in Lex for over a month and a half. Chauncey loved his gifts, which were new bourbon glasses, a Liquor Barn giftcard, and a Game of Thrones toy-thingy. We did dinner out at Joe B's in downtown Lexington that night. Kane was wild [per usual] so this was the best pic we got. My husband is a wonderful daddy to Kane, so it's nice to have a day to celebrate that.
And it was National Wear Your Lilly Day! You can see a full recap of my outfit and accessories
here
.
2. Let's talk about the Kate Spade sale. So, I have been stalking the "
Beware of Sharks
" tote for a while now, waiting for it to go on sale. But once it went on sale, I notice there was a pouch/clutch that had the same design and
it was love at 1st sight
. I decided to get the clutch instead of the tote, but was waiting to purchase because I knew that the extra 25% off sale items happens pretty frequently. I waited and I stalked. I looked at it Monday night, and still no sale. I looked at it Tuesday at lunch, and not only had the sale hit,
but my clutch was sold out
. . .I quickly called Kate Spade customer care, and they were able to locate one at their Chicago Oak Street store for me, which was shipped for free.
I did order
these earrings
off of the website, which came in the mail today. I have them in silver and have often wished for a gold pair. They were $19 + 25% off when I ordered them on Tuesday. They've now jumped up to $25 = 25% off:(
You can check out the sale
here
, and use code SETSALE for the additional 25% off of sale items through July 7.
3. Since I was home for the weekend, I did alot of cleaning, organizing, and decluttering! It felt amazing. Clutter is such a source of stress for me but I'm a messy person by nature. It's a catch-22.
4. Kane loves the cats. This is him and Giz having a heart-to-heart on the stairs this morning. He's also started counting the stairs as he goes down them.
5. Tina from
Go Big or Go Home
and I organized a Lexington bloggers meet-up for this past Thursday. Tina is a H54F regular, so when we found out we lived in the same place, of course we had to meet up! Her friend
Amy
, who also links up, came and brought her adorable baby Poppy.
Alexis
and
Courtney
, whom I met at the Dillard's Fayette Mall event a couple of months ago, also attended. Several people couldn't make it, but we're hoping to turn this into a bi-weekly meetup. If you're a blogger who lives in the Lexington, KY (or surrounding area), let us know! We'd love to meet you!
I hope you've had a wonderful week!
A couple of items before you go:
1. I'm the most active on Instagram. I post quite frequently about what I'm currently wearing. You can follow me
here
. I'd love if you'd follow along, and if you do, tag me in a comment so I can follow back!
2. My review of my latest Ipsy glam bag can be found
here
, and includes a makeup bag must-have.
Follow along on GFC (click link or click button sidebar), Bloglovin' (click link or click button on sidebar), or email (click here). Also, tweet us or use #H54F and we'll retweet your post!

Thanks for joining us for H54F! Be sure to link-up below and/or let us know how your week's been in the comments!


BLOGGERS: Fellow bloggers–ready to join in the link-up? Just write a blog post about 5 things that made this week! Add your link to your blog post down below. We ask that you follow each co-host on social media and link back to the link-up. You can even grab the H54F button to add to your post!
Don't forget to visit your fellow linkers and say hi! We recommend visiting the featured blogger + 3 other bloggers–try ones you haven't visited before:) Drop 'em a comment to let them know that you're visiting from H54F so that they can visit you back.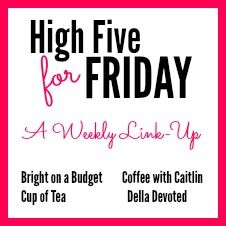 <div class="bright-on-a-budget-button" style="width: 200px; margin: 0 auto;">
<a href="https://www.brightonabudget.com" rel="nofollow">
<img src="http://i40.photobucket.com/albums/e232/coffeewithcaitlin/h54f2_zpsc7e1f4e7.jpg" alt="Bright on a Budget" width="200″ height="200″ />