TGIF, H54F-ers!!! Caitlin at Coffee with Caitlin, Della at Della Devoted, Katie at Cup of Tea, and myself want to welcome you to the link-up and the weekend. We made it!!!

This week's featured blogger is Brenda from Chatting Over Chocolate. Brenda is one of the sweetest bloggers, and her blog features a little bit of everything! She's also a Disney fanatic:) Thanks to her June Favorites Roundup, I'm going tomorrow to buy a new makeup palette dupe and I hope to visit Charming Charlie's soon (thanks, Brenda.haha).



Now let's recap this week's highlights:

1. Kane took his 2 year old pictures on Saturday. I can't wait to share them with you all! My friend from undergrad took them and she's fabulous. Here's one I took of him this week. He just got his toddler pillow in and he loves it, but doesn't he look like a tiny teenage with his little tablet beside him?



2. I had a weekend at Dillard's at Fayette Mall. I was out there on Friday night to pick out a dress for pictures on Saturday. While I was there, they had an additional 30% off all sale items. I was able to grab a pair of black patent Coach heels that were original $138 for only $38!!! The hot pink Jessica Simpson heels from this post also came home with me as they were only $28. Oops. Then on Sunday, I attended the Miss Kentucky fashion show. It was so much fun to see all of the girls vying for the crown! They were all gorgeous and their outfits were beautiful.


3. I had a business lunch meeting this week at Wild Eggs. Of course I ordered the breakfast, and yes, that's extra powdered sugar and extra butter beside my pancakes.




4. My starfish bangle from A Belle's Baubles came in, and I love it! I featured it on Wednesday for my Patriotic Pretties outfit. Check out the post to see the rest of the outfit and get details as to how you can get 20% off of your entire purchase from A Belle's Baubles through tomorrow. For more 4th of July outfit inspirations, check out my Instagram. I've been having a red, white, and blue parade of outfits this week and today's is my absolute favorite!




5. New favorite lipstick alert! I'll be blogging about it on the blog in the next week or so. And while this isn't NYX, Ulta has all of their NYX products 40% off right now! Definitely time to either (a) hop on the NYX bandwagon or (b) STOCK UP!
A special thank you to the gals (and H54F regulars) over at the Sequin Notebook for allowing me to guest blog for them this week. You can read my post here about Beach Day Essentials.
I HOPE EVERYONE HAS A SAFE AND FUN

4

TH

OF JULY!!!
Follow along on GFC (click link or click button sidebar), Bloglovin' (click link or click button on sidebar), or email (click here). Also, tweet us or use #H54F and we'll retweet your post!

Thanks for joining us for H54F! Be sure to link-up below and/or let us know how your week's been in the comments!


BLOGGERS: Fellow bloggers–ready to join in the link-up? Just write a blog post about 5 things that made this week! Add your link to your blog post down below. We ask that you follow each co-host on social media and link back to the link-up. You can even grab the H54F button to add to your post!
Don't forget to visit your fellow linkers and say hi! We recommend visiting the featured blogger + 3 other bloggers–try ones you haven't visited before:) Drop 'em a comment to let them know that you're visiting from H54F so that they can visit you back.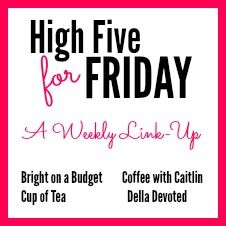 <div class="bright-on-a-budget-button" style="width: 200px; margin: 0 auto;">
<a href="https://www.brightonabudget.com" rel="nofollow">
<img src="http://i40.photobucket.com/albums/e232/coffeewithcaitlin/h54f2_zpsc7e1f4e7.jpg" alt="Bright on a Budget" width="200″ height="200″ />