TGIF, H54F-ers!!! Caitlin at Coffee with Caitlin, Della at Della Devoted, Katie at Cup of Tea, and myself want to welcome you to the link-up and the weekend. We made it!!!

This week's featured blogger is Nicole from the Diary of Nicole Alicia. Nicole is a lifestyle blogger who loves some of my favorite things: In-n-Out, Harry Potter, and pizza. She also loves photography. Right now, she has an awesome recap of her London adventures on the blog (you can start here–there's several posts).


Now let's recap the week:

1. A blog redesign is officially in the works! New logo, new colors, and a slightly different layout are on the way. I can't wait to see what you all think about it!!!

2. We celebrated the 4th by hanging out around the pool with friends. The weather was lovely, after several days of being quite the opposite. It was nice to catch up with everyone, but Kane wore Chauncey and I out. Kane didn't want to be in the pool or wear his life jacket. He wanted to run around the pool and throw things in it instead.
3. On Sunday, our little family headed out to brunch at Doodles before going grocery shopping. Doodles is known for their beignets, and for good reason. I devoured them.



4. While I'm on the topic of food, we went out to dinner with some good friends and their little boy at Old Chicago. It was great to get to see each other and catch-up!

5. I scored my first Kendra Scott piece from Clothes Mentor. The necklace retailed for $220 ($68 on clearance). It came home with me for only $30!!!!! I love that store. I've featured this necklace in every post this week, so might as well make it 3/3. Seriously, that's how excited I am about it.
All the outfit details here.

How was your week? Let us know in the comments below:)
Follow along on GFC (click link or click button sidebar), Bloglovin' (click link or click button on sidebar), or email (click here). Also, tweet us or use #H54F and we'll retweet your post!

Thanks for joining us for H54F! Be sure to link-up below and/or let us know how your week's been in the comments!


BLOGGERS: Fellow bloggers–ready to join in the link-up? Just write a blog post about 5 things that made this week! Add your link to your blog post down below. We ask that you follow each co-host on social media and link back to the link-up. You can even grab the H54F button to add to your post!
Don't forget to visit your fellow linkers and say hi! We recommend visiting the featured blogger + 3 other bloggers–try ones you haven't visited before:) Drop 'em a comment to let them know that you're visiting from H54F so that they can visit you back.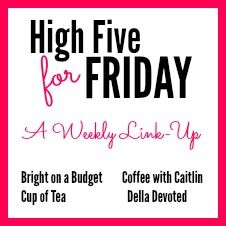 <div class="bright-on-a-budget-button" style="width: 200px; margin: 0 auto;">
<a href="https://www.brightonabudget.com" rel="nofollow">
<img src="http://i40.photobucket.com/albums/e232/coffeewithcaitlin/h54f2_zpsc7e1f4e7.jpg" alt="Bright on a Budget" width="200″ height="200″ />