TGIF, H54F-ers!!! Della at Della Devoted, Katie at Cup of Tea, and myself want to welcome you to the link-up and the weekend. We made it!!!

This week's featured blogger is Saprina from Saprina Says. She blogs about beauty and life. She's a "Daughter of The King, single mom, self proclaimed product junkie." I really enjoyed her recent posts about 5 Steps to Developing Your Personal Style and her 90 Day Rocksbox Review.


Now let's recap the highlights from this week:

1. I met Whitney from Come Home for Comfort in real life on Wednesday! Whitney and I met through the H54F linkup and I read her blog regularly–you should too. She's a hoot and we found tons to talk about. We had lunch at Saul Good, and both ordered pizzas. Of course we took pictures for our H54F posts.haha And she brought me the most delicious strawberry bread. There goes everything out the window that your mom told you about not meeting people online or taking candy from strangers. Lunch wasn't long enough, and I'm already looking forward to the next time we meet up!


Please excuse my #flathairdontcare (thanks, Katie.haha), but our scarf game is on point.
2. Yesterday was free french fry day at Penn Station!!!! French fries are my favorite, and Penn Station has some of the best. Of course I was there for lunch yesterday. Did you think I would miss it???

3. It's the week for great sales–the Nordstrom Anniversary Sale opens up to non-cardholders today, Maurices end-of-summer clearance sale has hit, Old Navy currently has an extra 30% off of their clearance, and Amazon Prime Day was Wednesday. OK, I don't think the last one really counts because I don't think it lived up to the hype, and I missed out on the 40″ TV for $115.

I went to Maurices last night. For $120, I ended up with 2 HUGE bags of clothes and saved almost $500 (use code DENIM715 online to save $15 off $75 right now)!!! This is probably one of my all-time favorite sales. Long story short, it's a wonderful time to be stocking up on clothes for cheap. For advice on how to shop end-of-season clearance sales like a pro, you can check out my post here, and don't forget to use Ebates!



4. I headed straight for the hills last weekend and spent some time with my family in Eastern Kentucky. There's nothing better than curling up on the couch surround by those you love, or chatting with one of your best friends in person:) Oh, and having family to help with Kane. It's difficult to have your family live so far away when you have small children.
5. The blog redesign is complete! Thanks to Kreated by Kelsey for getting it done so quickly. I designed the logo and she did the rest. I highly recommend her if you're looking for a refresh for your blog. She is highly professional, works quickly, and is very reasonably priced.
So let's throw some other things out there. . .I feel a Wardrobe Re-Wear post coming on next week, so long as the weather cooperates. And we (my co-hosts and I) are trying to figure out ways to make your H54F even better and take the connectivity to the next level! We're brainstorming on a survey you all can take, but I'd love to hear your ideas below. I will tell you that we tend to chat online most Thursday nights as we're preparing our posts. How would you all feel about us opening up something like that to let all of you participate?
Thanks for joining us for H54F! Be sure to link-up below and/or let us know how your week's been in the comments!
Follow along on GFC (click link or click button sidebar), Bloglovin' (click link or click button on sidebar), or email (click here). Also, tweet us or use #H54F and we'll retweet your post!


BLOGGERS: Fellow bloggers–ready to join in the link-up? Just write a blog post about 5 things that made this week! Add your link to your blog post down below. We ask that you follow each co-host on social media and link back to the link-up. You can even grab the H54F button to add to your post!
Don't forget to visit your fellow linkers and say hi! We recommend visiting the featured blogger + 3 other bloggers–try ones that you haven't visited before:) Drop 'em a comment to let them know that you're visiting from H54F so that they can visit you back.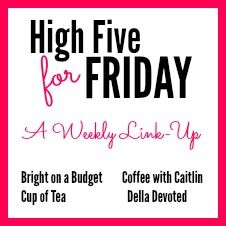 <div class="bright-on-a-budget-button" style="width: 200px; margin: 0 auto;">
<a href="https://www.brightonabudget.com" rel="nofollow">
<img src="http://i40.photobucket.com/albums/e232/coffeewithcaitlin/h54f2_zpsc7e1f4e7.jpg" alt="Bright on a Budget" width="200″ height="200″ />
—