TGIF, H54F-ers!!! Caitlin at Coffee with Caitlin, Della at Della Devoted, Katie at Cup of Tea, and myself* want to welcome you to the link-up and the weekend. We made it!!!
*Caitlin at Coffee with Caitlin is on a short hiatus from co-hosting, but she'll be hosting periodically still. As soon as she returns full-time, we'll be sure to let you know!
This week's featured blogger is Kate from
Classy Living
. She's a Jersey-girl who teaches elementary school, lives a gluten-free life, and teaches zumba! Kate's a lifestyle blogger, and
her recap from last weekend
features a heartwarming share about her grandma. And #5 on her
H54F post
from last week had me laughing hard!
Now let's review the highlights of my week:
1. I found an
awesome
deal on an iconic fashion accessory. It's been #1 on my MUST HAVE List for years. I'm even driving 3 hours each way to go pick it up. As soon as I have it in my possession, there will be a post to
Instagram
, and an introduction on the blog to follow next week [insert squeal].
2. I met Rynetta from jcrewismyfavstore [insert 2nd excited squeal]!!! You can find her blog
here
and her Instagram
here
. If you like J. Crew and/or professional fashion, then you
need
to follow her. We've followed each other on Instagram for a while now, but just figured out that we live in the same city. We were
so
excited to get together for dinner. It was a success–we hit it off! I'm so thankful to have made another blogging friend who lives nearby:)
All J. Crew outfit were necessary for the occasion, of course.
3. Kane had a double-header of birthday parties on Saturday. They were both outside, and it was hot, but it was sweet to see him playing with his buddies. I broke out the blow-up pool for him on Sunday, and he loved it! I almost climbed in it with him because I was melting while watching him.
4. A new
Wardrobe Re-Wear
is up, as promised. I love doing these posts, and my hubby did a great job taking the pictures. He hates it, but it does it anyways. That's just one of the little things I love about him.
5. I've been wearing all of my cheap and fun sale shirts this week. Have you checked out the
Maurices sale
yet???
Disclaimer: the navy + white print button-up is from the Old Navy clearance extra 30% off sale, but I think that ended last week:(
Thanks for joining us for H54F! Be sure to link-up below and/or let us know how your week's been in the comments!

Follow along on GFC (click link or click button sidebar), Bloglovin' (click link or click button on sidebar), or email (click here). Also, tweet us or use #H54F and we'll retweet your post!


BLOGGERS: Fellow bloggers–ready to join in the link-up? Just write a blog post about 5 things that made this week! Add your link to your blog post down below. We ask that you follow each co-host on social media and link back to the link-up. You can even grab the H54F button to add to your post!
Don't forget to visit your fellow linkers and say hi! We recommend visiting the featured blogger + 3 other bloggers–try ones that you haven't visited before:) Drop 'em a comment to let them know that you're visiting from H54F so that they can visit you back.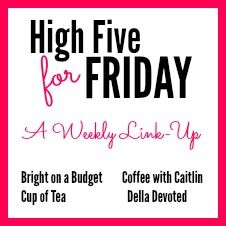 <div class="bright-on-a-budget-button" style="width: 200px; margin: 0 auto;">
<a href="https://www.brightonabudget.com" rel="nofollow">
<img src="http://i40.photobucket.com/albums/e232/coffeewithcaitlin/h54f2_zpsc7e1f4e7.jpg" alt="Bright on a Budget" width="200″ height="200″ />