TGIF, H54F-ers!!! Caitlin at Coffee with Caitlin*, Della at Della Devoted, Katie at Cup of Tea, and myself want to welcome you to the link-up and the weekend. We made it!!! But can someone please tell me how we're already at the END of July? One thing to celebrate about it is that our co-host Katie's birthday is today! Be sure to stop by with birthday wishes!!!
*Caitlin at Coffee with Caitlin is on a short hiatus from co-hosting, but she'll be hosting periodically still, like today! As soon as she returns full-time, we'll be sure to let you know!
This week's featured blogger is Ashley from
Life on the Parsons Farm
. Ashley is a lifestyle blogger with an adorable daughter. She shares about both her infertility and adoption journeys, and I find her openness to be inspiring. Like Katie, she posts a
weekly menu
of sorts. She also has
some cute ideas regarding her upcoming home improvements
.
Now let's recap this week's highlights:
1. My 10 YEAR High School Reunion was on Friday night. Once again, where does the time go?! Here's a H54F fun fact for you: how many of you all know that Della and I graduated from high school together? We're from a small town in eastern Kentucky, and we had a small, close-knit class. The turnout was decent, and we literally danced the night away. I was such a hot mess of sweat by the time we left (sidenote: I don't like sweating.haha). Everyone looked pretty good for 10 years out, if I do say so myself!
2. Since I was back home, Della and I decided to take the boys to watch the new Minion movie. It was both Kane and Raylan's 1st movie. We all had fun. The great thing about being in a small-town is that we were the only people at the matinee, since it wasn't the movie's 1st weekend out. It made the experience must less stressful as we didn't have to worry about disturbing other viewers.
3. I drove 6 hours roundtrip to Columbus, OH to pick up my new iconic fashion accessory this weekend! I found an authentic Louis Vuitton Speedy 25 manufactured in September 2014 that came with lock and key, dustbag, box, and papers for less than 50% of retail!!!
Of course
I was driving to get it.haha I'm in love. The picture below is a snapshot from yesterday's post–you can see the full outfit
here
.
4. Here's another H54F fun fact for you. . .do you know who lives in Columbus??? Caitlin! While Caitlin and I have been blogging buddies for a while before we became H54F co-hosts, we had never met in real life! So of course we took the opportunity to meet up. We had a late lunch/early dinner at a little pub called the Old Bag of Nails. The pub was a fun location, in the middle of a gorgeous little town in a suburb of the city. We had such a fun time catching up:)
5. Kane has stayed back in eastern Kentucky this week, so Chauncey and I have taken advantage of our time alone with a couple of date nights. We went out to Pies and Pints on Monday night, then headed out to Old Bourbon County Kitchen (OBC) on Wednesday night. Both were fun dining out experiences.
By the way, I'm currently taking part in a giveaway to celebrate Della's 1 Year Blogiversary!!! We've teamed up with some of our friends to give away a $60 Target giftcard. You can get all the details and enter
here
.
Thanks for joining us for H54F! Be sure to link-up below and/or let us know how your week's been in the comments!

Follow along on GFC (click link or click button sidebar), Bloglovin' (click link or click button on sidebar), or email (click here). Also, tweet us or use #H54F and we'll retweet your post!


BLOGGERS: Fellow bloggers–ready to join in the link-up? Just write a blog post about 5 things that made this week! Add your link to your blog post down below. We ask that you follow each co-host on social media and link back to the link-up. You can even grab the H54F button to add to your post!
Don't forget to visit your fellow linkers and say hi! We recommend visiting the featured blogger + 3 other bloggers–try ones that you haven't visited before:) Drop 'em a comment to let them know that you're visiting from H54F so that they can visit you back.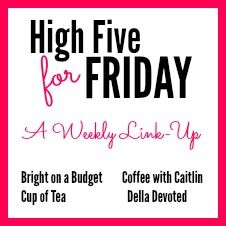 <div class="bright-on-a-budget-button" style="width: 200px; margin: 0 auto;">
<a href="https://www.brightonabudget.com" rel="nofollow">
<img src="http://i40.photobucket.com/albums/e232/coffeewithcaitlin/h54f2_zpsc7e1f4e7.jpg" alt="Bright on a Budget" width="200″ height="200″ />