First up. . .we've been brainstorming!!! Remember a few weeks back when we randomly said hat we're thinking about extra ways to get to know one another with H54F? Details/more info is coming, but mark your calendars for Thursday, August 27 at 9:30 PM EST for a Google Handout! We're kind of envisioning everyone with a drink, in their PJs, curled up on the sofa for a good ol' chat. Stay tuned!!!
This week's featured blogger is Amanda from A Brownie World. Amanda is a lifestyle blogger from North Carolina. I really enjoyed her Around the Home post where she talked about small changes making big impacts around the house (so true!). She also just talked about some awesome tennis shoes, which you can check out here. And if you're from North Carolina, you should check out her "This Weekend in North Carolina" posts!
Now let's recap this week's highlights:
1. The East Kentucky Blog Society is officially launched! You can check out the website here. I'm so excited to be a part of this wonderful group of bloggers. I've always been a proud Eastern Kentuckian, and now I'm a proud member of the EKYBS!!!
2. Lowe's had an awesome one day sale on the HGTV Sherwin Williams paint on Friday. . .so what did I do? I went and bought 20 gallons of paint. Let's Lisa Frank this house up!!! Ok, maybe not quite that bright. I got "Ghost Pines" as my neutral color throughout the house (a light greige) and Orion Blue for our master suite (a medium, dusty, sorta French blue). Needless to say, my husband hates me right about now.
3. Kane and Raylan had another playdate. We took them to play on the slides and they had so much fun! Kane is absolutely fearless. Della and I were excited to be able to relax and catch-up while the boys played.
4. Kane got the cutest haircut at Kiddie Kutters on Wednesday! Speaking of slides, they have one in there, and he loved playing on it. I realize that it's indoors, but he's just 2, so he was screaming in excitement. This lady sitting beside Chauncey said, "That kid's terrible!" Well, hello, he's 2! Of course he's slightly terrible but he was just having a good time. Lady, you're probably not cool enough to be reading my blog, but just in case you ever stumble across it, your opinion was overheard and summarily discounted. Ooo, and we had a great dinner at Red Robin afterwards:)
5. I'm really excited to announce that some fun collaborations are coming to the blog! I can't give away the details just yet, but stay tuned to see what's in the works. Also, I'm in the process of planning my 1st videos! What do you all think about that? I'm nervous, but I'm going for it. I'm planning on doing some makeup reviews, some tutorials, and some more chatty type deals, like a Reader Q & A. So, do you have any questions for me–about my like/dislikes, hobbies, recommendations, what I do in real life, etc??? Let me know in the comments below!
A special thank you to Rachel at Garay Treasures for inviting me to guest post this week!
You can check out my outfit and all the details here.
Thanks for joining us for H54F! Be sure to link-up below and/or let us know how your week's been in the comments!

Follow along on GFC (click link or click button sidebar), Bloglovin' (click link or click button on sidebar), or email (click here). Also, tweet us or use #H54F and we'll retweet your post!


BLOGGERS: Fellow bloggers–ready to join in the link-up? Just write a blog post about 5 things that made this week! Add your link to your blog post down below. We ask that you follow each co-host on social media and link back to the link-up. You can even grab the H54F button to add to your post!
Don't forget to visit your fellow linkers and say hi! We recommend visiting the featured blogger + 3 other bloggers–try ones that you haven't visited before:) Drop 'em a comment to let them know that you're visiting from H54F so that they can visit you back.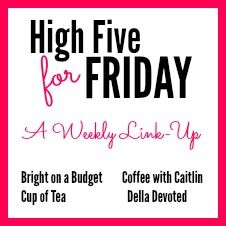 <div class="bright-on-a-budget-button" style="width: 200px; margin: 0 auto;">
<a href="https://www.brightonabudget.com" rel="nofollow">
<img src="http://i40.photobucket.com/albums/e232/coffeewithcaitlin/h54f2_zpsc7e1f4e7.jpg" alt="Bright on a Budget" width="200″ height="200″ />