TGIF, H54F-ers!!! Caitlin at Coffee with Caitlin, Della at Della Devoted, Katie at Cup of Tea, and myself want to welcome you to the link-up and the weekend. We made it!!!

First things first: We're finalizing plans for our LIVE Google Hangout on Thursday, August 27, at 9:30PM EST! It will be super easy to join! Just prior to the Hangout going live, we'll be sending out a link to watch the live stream. You'll be able to find Katie, Caitlin, Della, and me LIVE! You don't need a Google+ account to watch! We can't wait to give this a whirl. Just bear in mind that this is our first time doing this, and it may be rough and/or hilarious (we're pretty funny people).
This week's featured blogger is Mariah from Faith & Fashion. Mariah is a fashion and lifestyle blogger that I met through Instagram over a mutual Kentucky bond, but she's based in St. Louis:) She has an adorable daughter, who you can "meet" on her recent post documenting her Springfield, Illinois trip. Also, I need everything on her fall fashion wishlist except for the blanket scarf, because I already have it.haha


Now let's recap the highlights from my week:
1. I've been on vacation this week in Folly Beach/Charleston, SC. This is seriously one of my favorite places on earth. I'm planning a full recap of the new places I visited on this trip, but you can check out my review of Folly Beach and the Tides Folly Beach hotel here, and my review of downtown Charleston here, both from last year. It has been an amazing and much needed trip, but I'll be happy to be home today. Please say a little prayer for us a safe trip.


2. So, in case you haven't figured it out yet, I can be very random, and evidently so can my friends.haha I posted on Instagram about us heading out on our trip, when Whitney from Come Home for Comfort mentioned I should stop and see her along the way. . .so I did. Due to timing, we ended up meeting for coffee off an Interstate exit that was a quick drive from her house, but it was worth it:) I love this crazy blogging life!

3. I totally scored at the Lilly Pulitzer After Party Sale!!! My favorite pattern right now is Red Right Return, and I ended up with a popover and a tank in it. While I got up and shopped the sale online at 8 a.m. Monday morning (getting several awesome goodies), they were sold out of the RRR popover online. But the local Charleston Lilly store, Palm Avenue, had one in stock for just a little more than the online price. I think this print is basically the new You Gotta Regatta, so I wanted to get my hands on it before the resale prices go outrageous.


Oh, and shoutout to my wonderful hubby who got up to shop the online sale with me! I was #1334 in line and got on the site in around 5 minutes, while he wasn't very far behind. I shopped what I really wanted first, checked out so that those items didn't sell out on me, and then shopped on his iPad to be able to browse.
4. While relaxing on the beach, I read several books. I love to read trashy romance novels. As an attorney, I read some really dry material for work sometimes, so I like to keep the reading light in the off-time. Sadly, I couldn't find my Kindle for this trip, but I made due with paperbacks and my iPad mini.

5. Seashells! One of my favorite things about being at the beach is hunting seashells! I woke up early a couple of mornings and went down to the beach to see what I could find. While I'm still on the hunt for "the big one," I still did pretty good. I think it's so much fun to see what you can find! Is anyone else obsessive about hunting shells?

Most importantly, I'd really like to thank my friends who've guest blogged for me this week, and I hope you'll check out their posts!!! Lots of good beauty and fashion tips!
Thanks for joining us for H54F! Be sure to link-up below and/or let us know how your week's been in the comments!
Follow along on GFC (click link or click button sidebar), Bloglovin' (click link or click button on sidebar), or email (click here). Also, tweet us or use #H54F and we'll retweet your post!


BLOGGERS: Fellow bloggers–ready to join in the link-up? Just write a blog post about 5 things that made this week! Add your link to your blog post down below. We ask that you follow each co-host on social media and link back to the link-up. You can even grab the H54F button to add to your post!
Don't forget to visit your fellow linkers and say hi! We recommend visiting the featured blogger + 3 other bloggers–try ones that you haven't visited before:) Drop 'em a comment to let them know that you're visiting from H54F so that they can visit you back.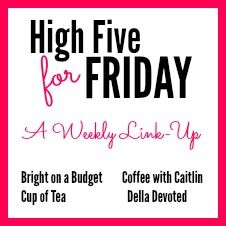 <div class="bright-on-a-budget-button" style="width: 200px; margin: 0 auto;">
<a href="https://www.brightonabudget.com" rel="nofollow">
<img src="http://i40.photobucket.com/albums/e232/coffeewithcaitlin/h54f2_zpsc7e1f4e7.jpg" alt="Bright on a Budget" width="200″ height="200″ />