TGIF, H54F-ers!!! Caitlin at Coffee with Caitlin, Della at Della Devoted, Katie at Cup of Tea, and myself want to welcome you to the link-up and the weekend. We made it!!!

Thanks to everybody who participated in the Google Hangout last night! I think everyone had a great time, and the chat was getting pretty interesting.haha In case you missed it, I'm including the recording below. You can watch to see how we all got into blogging, hear about our wardrobe mishaps, found out how we all got engaged, discover our Netflix binge-fest. . .you get where I'm going with this. And check out my super awkward face as the screenshot for the video.haha

This week's featured blogger is Coletta from Coletta's Kitchen Sink. Coletta recently became a SAHM. She's a lifestyle blogger, and her blog centers around recipes, crafts (check out her crocheted flowers tutorial here), and books (yay!).
Now let's review the highlights of my week:
1. Kane was dropped back off to us on Saturday from his own vacation in eastern Kentucky. We were so happy to have our little guy back, even if he returned a little bit meaner than when he left. Since my mom and Chauncey's mom drove him back to Lex, we all went out to dinner at Joe B's. Joe B's is one of my favorite restaurants in town–they have delicious breadsticks that you can dip in garlic butter.
2. While I was sad to say goodbye to the beach, I was very thankful that we had a safe trip home. Until next time, Charleston. . .
3. I won a $50 giftcard from @shopthemint on Instagram for one of my outfit pictures I posted! More clothes? Yes, please!
4. This week Kane has had to pack his backpack and 2 big dinosaurs everywhere (rawr!). Seriously. We take them with us in the car to daycare, and he fell asleep with them all in the crib on Wednesday night. He's so adorable carrying them all around.
5. All kinds of goodies came in the mail this week! I received a new Kendra Scott necklace and my first shipment from the Lilly Pulitzer After Party Sale was waiting on me when I got home from vacation. I love a good mail day. The only bad part of my mail this week? I found a pair of periwinkle Kendra Scott earrings 50% off at Nordstrom, and they sent me the wrong color:( Of course, the periwinkle color that I had really been wanting was no longer available when I opened the box and, so they're replacing with a different color at the same costs.
That clutch/pouch in Pomegranate Jungle Tumble was only $14 from the APS sale!
Finally, I'm still catching up on reading and commenting from when I was gone on vacation, so please bear with me.

Thanks for joining us for H54F! Be sure to link-up below and/or let us know how your week's been in the comments!
Follow along on GFC (click link or click button sidebar), Bloglovin' (click link or click button on sidebar), or email (click here). Also, tweet us or use #H54F and we'll retweet your post!


BLOGGERS: Fellow bloggers–ready to join in the link-up? Just write a blog post about 5 things that made this week! Add your link to your blog post down below. We ask that you follow each co-host on social media and link back to the link-up. You can even grab the H54F button to add to your post!
Don't forget to visit your fellow linkers and say hi! We recommend visiting the featured blogger + 3 other bloggers–try ones that you haven't visited before:) Drop 'em a comment to let them know that you're visiting from H54F so that they can visit you back.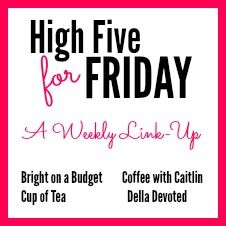 <div class="bright-on-a-budget-button" style="width: 200px; margin: 0 auto;">
<a href="https://www.brightonabudget.com" rel="nofollow">
<img src="http://i40.photobucket.com/albums/e232/coffeewithcaitlin/h54f2_zpsc7e1f4e7.jpg" alt="Bright on a Budget" width="200″ height="200″ />