TGIF, H54F-ers!!! Caitlin at Coffee with Caitlin, Della at Della Devoted, Katie at Cup of Tea, and myself want to welcome you to the link-up and the weekend. We made it!!!
This week's featured blogger is Olya from The Siberian American. She's "originally from the coldest habitable city in the world," but is currently based in Chicago. Her husband is in medical school, and that's where the city he matched in. She's an editor for a nonprofit and does freelance work on the side. I love her post about her recent private tour at the San Diego Zoo!
Now let's recap this week's highlights:
1. I am in love with anything and everything buffalo plaid/checks this fall. Like this vest. I scored it for slightly under $20 during Old Navy's sale earlier this week!!!
2.
Chauncey and I had a movie night last weekend. We watched Interstellar with Matthew Maccaughney and absolutely loved it!!! If you haven't watched it, you totally should. After watching the preview, I thought it looked like a spin on Armageddon, but it's different. By the way, it has been 17 years since Armageddon came out! Seriously?! I still love that movie too.
3. I attended a baby shower for one of my good friends from law school on Saturday. I hadn't gotten to see her in forever, and it was extremely nice to get to catch up. Plus she's all beautiful and glowing:) I love seeing people that happy!
4. After the baby shower on Saturday, I took Kane to the Touch a Trunk event at Keeneland. This is a yearly charity event that benefits the Child Development Center of the Bluegrass. It's exactly what it sounds like–there's a bunch of large vehicles and equipment that children can climb all over. You could also watch a helicopter take off, which was interesting. We met up with another law school friend of mine and her family. Kane was an absolute terror. . .I lost track of the number of fits he threw.haha But he really like the trucks. He just didn't want to leave once he was sitting in them. And he doesn't understand taking turns. It was a long day but I'm glad I took him.
5.
It's been a busy-busy week at work. When I'm in the groove like that, I love having brightly colored pens and highlighters to work with. So these new Sharpies pens made my day yesterday. I also got a new pack of highlighters in the fun shades too!!! [insert squeal]
Thanks for joining us for H54F! Be sure to link-up below and/or let us know how your week's been in the comments!
Follow along on GFC (click link or click button sidebar), Bloglovin' (click link or click button on sidebar), or email (click here). Also, tweet us or use #H54F and we'll retweet your post!


BLOGGERS: Fellow bloggers–ready to join in the link-up? Just write a blog post about 5 things that made this week! Add your link to your blog post down below. We ask that you follow each co-host on social media and link back to the link-up. You can even grab the H54F button to add to your post!
Don't forget to visit your fellow linkers and say hi! We recommend visiting the featured blogger + 3 other bloggers–try ones that you haven't visited before:) Drop 'em a comment to let them know that you're visiting from H54F so that they can visit you back.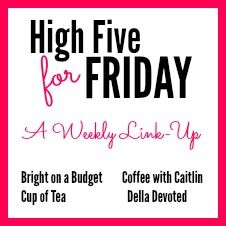 <div class="bright-on-a-budget-button" style="width: 200px; margin: 0 auto;">
<a href="https://www.brightonabudget.com" rel="nofollow">
<img src="http://i40.photobucket.com/albums/e232/coffeewithcaitlin/h54f2_zpsc7e1f4e7.jpg" alt="Bright on a Budget" width="200″ height="200″ />