I was sent the Lucky Peanut Jewelry to review and I'm a brand rep for Kentucky Brewed Tees, but all opinions are my own.

***Don't forget! The next H54F Hangout on September 24 at 9:30PM EST! That one will be all about blogging! Do you have any questions about blogging you'd like us to chat about? Any tips you want to share?? We're all learning together, right? See you then!!!***

TGIF, H54F-ers!!! Caitlin at Coffee with Caitlin, Della at Della Devoted, Katie at Cup of Tea, and myself want to welcome you to the link-up and the weekend. We made it!!!

This week's featured blogger is Kelly from Familiar Joy! Kelly is mom to four kids, a football wife, and a high school teacher. She is a lifestyle blogger who blogs about her kids, house ideas, style, and food. She most recently had an interesting post about who she would invite to a dinner party, and a fun recap of the state fair.


Now let's recap this week's highlights:

1. Friday was that kind of day, to say the least. I was going back to eastern Kentucky to get my hair done, and taking Chauncey's car. I pulled into my house to throw my bags in the car, and the battery died. Right there in the driveway. But I'm resourceful, to say the least. So I get our little jump start kit to jump start the battery, and when I start messing around with the battery, the car doors lock. . .with my keys inside. I kid you not. Only me. Chauncey was not happy to say the least, and he pulled into the driveway just as AAA was finishing unlocking the doors. Long story short, I finally got on the road and was an hour late to my hair appointment, but I made it and my hair lady stayed late to get me in (thanks, Ginger!). Nothing better than getting a fresh cut and color on a good day, let alone after that mess.haha



2. On Saturday, I met up with three other members of the East Kentucky Blog Society–Brittany from the Lady Lawyer, Erin from The Mimosa Memoir, and Nikki from Coal Miner's Bride. We had lunch at Lizzie B's in Prestonsburg. FYI–the praline cappuccino and the pizza were both delightful. Then we headed downtown to take some blog pictures. It was cold. Nikki's skirt kept Marilyn-ing (flying up), and I was about hit by several cars trying to get some good snaps, but at least Erin and Brittany didn't fall in the fountain when I got them to take some pics by it (I probably would have).hahaha We wrapped by grabbing some fudge from All Things Good & More that was just as delicious as our lunch. Brittany wrote an awesome recap here.


By the way, my "Hello Beautiful" tee is on clearance for $15 from Kentucky Brewed Tees, and you can snag 10% off of your entire purchase with code BRIGHT!!! It's a perfect transition piece for fall.


3. One of my best friends, who is actually like a sister to me, had her baby shower on Saturday, so I headed straight there from Prestonsburg. I loved getting to see her and celebrate her new arrival!!! Oh, and her mom made yummy chicken 'n dumplings, so I ate yet again.
4. I received some awesome jewelry in the mail from Lucky Peanut Jewelry! I've been following LPJ on social media for a while now. State jewelry is really in right now, and her Kentucky jewelry is flat-out fabulous!!! I received the heart-shaped bangle with tassel, the white drusy necklace, and the Kentucky wired wrapped bangle (not pictured). I have worn my items almost every day since I received them last weekend.



5. My September Glam Bag arrived from Etsy, and I was so excited to receive it! It has several items in fall shades that made my heart happy. Fall is on the ground. . .now if it'd just get in the air and make these temperatures drop some, I'd be a happy girl!!!


Thanks for joining us for H54F! Be sure to link-up below and/or let us know how your week's been in the comments!

Follow along on GFC (click link or click button sidebar), Bloglovin' (click link or click button on sidebar), or email (click here). Also, tweet us or use #H54F and we'll retweet your post!


BLOGGERS: Fellow bloggers–ready to join in the link-up? Just write a blog post about 5 things that made this week! Add your link to your blog post down below. We ask that you follow each co-host on social media and link back to the link-up. You can even grab the H54F button to add to your post!
Don't forget to visit your fellow linkers and say hi! We recommend visiting the featured blogger + 3 other bloggers–try ones that you haven't visited before:) Drop 'em a comment to let them know that you're visiting from H54F so that they can visit you back.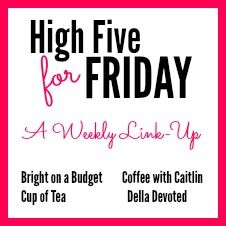 <div class="bright-on-a-budget-button" style="width: 200px; margin: 0 auto;">
<a href="https://www.brightonabudget.com" rel="nofollow">
<img src="http://i40.photobucket.com/albums/e232/coffeewithcaitlin/h54f2_zpsc7e1f4e7.jpg" alt="Bright on a Budget" width="200″ height="200″ />