TGIF, H54F-ers!!! Caitlin at Coffee with Caitlin, Della at Della Devoted, Katie at Cup of Tea, and myself want to welcome you to the link-up and the weekend. We made it!!!

This week's featured blogger is Sheryl from How to Make a Life. Sheryl is a fellow Kentuckian (she and I still need to do lunch soon) and an inspirational lifestyle blogger. She's a clinical social worker/life coach, and her posts are always thoughtful and insightful, like this one. She also recently did a guest post about How to Create a Self-Care Toolbox here.
Now let's recap the highlights of my week:
1. Last Friday night, Chauncey and I took Kane to a picnic at his daycare. Afterwards, Kane and I hit up the Market 301 that happens once a month in Lexington. It's an event where local artists and shops come together in a different location each month to sell their wares. My favorite, Kentucky Brewed Tees, was there! I checked out their fall collection, which I love! Since I'm a brand rep, I get to share my Kentucky Brewed Tees promo code with you–use code BRIGHT for 10% off of your entire purchase if you'd like to order something for yourself! I also bought some snacks, a few little gifts, and picked myself up a small canvas from Mirabelle Creations!
Photo Used with Permission from Kentucky Brewed Tees.
2. MY HOUSE IS FINALLY BEING PAINTED!!! I'm extremely happy to get rid of all of these white walls, and I'll share some decorating pictures once the process is complete!
3. Kane had to have tubes put in his ears again, so my mom was with us for 3 days this week! It sucks that Kane had to go through that, but I love that I got to spend extra time with my mom. We even hit up the Cheesecake Factory while she was here, and Kane was an angel. In case you were wondering, I got the red velvet cheesecake:) I had leftovers for breakfast and dinner today, and I plan on eating the rest for breakfast tomorrow.
4. It's fall y'all! I picked up these adorable decorations (and more, not pictured) from Target this week. The little sign was only $1 in the One Spot!!!
Oh, and I picked up 2 purses and 3 new plaid shirts from Old Navy that I can't wait to share with you. Yay for an extra 40% off and free shipping! Old Navy has had that deal on their website twice recently, but it wasn't overtly obvious on their desktop website this time around. It was on the homepage, but it was smaller and you really had to look to see it. It was actually more prominent on the mobile website. Weird.
5. We had another H54F Hangout last night! You can watch the video below to get our insights into blogging, and find out all about 5 Day Hair.hahaha Beforehand, I attended a UK Law lecture featuring SCOTUS Justice Samuel Alito. He is an excellent speaker who is very entertaining.
Thanks for joining us for H54F! Be sure to link-up below and/or let us know how your week's been in the comments!

Follow along on GFC (click link or click button sidebar), Bloglovin' (click link or click button on sidebar), or email (click here). Also, tweet us or use #H54F and we'll retweet your post!


BLOGGERS: Fellow bloggers–ready to join in the link-up? Just write a blog post about 5 things that made this week! Add your link to your blog post down below. We ask that you follow each co-host on social media and link back to the link-up. You can even grab the H54F button to add to your post!
Don't forget to visit your fellow linkers and say hi! We recommend visiting the featured blogger + 3 other bloggers–try ones that you haven't visited before:) Drop 'em a comment to let them know that you're visiting from H54F so that they can visit you back.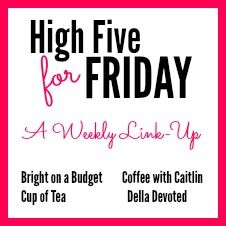 <div class="bright-on-a-budget-button" style="width: 200px; margin: 0 auto;">
<a href="https://www.brightonabudget.com" rel="nofollow">
<img src="http://i40.photobucket.com/albums/e232/coffeewithcaitlin/h54f2_zpsc7e1f4e7.jpg" alt="Bright on a Budget" width="200″ height="200″ />