TGIF, H54F-ers!!! Caitlin at Coffee with Caitlin, Della at Della Devoted, Katie at Cup of Tea, and myself want to welcome you to the link-up and the weekend. We made it!!!
This week's featured blogger is Tina from Go Big or Go Home. Tina is another Lexington blogger that I've actually met in real life. She's so nice and has an adorable little boy. She blogs about DIY, fitness, baby, and life in general. How adorable is her recently DIY burlap wreath? And as an extra goodie, be sure to check out the giveaway she currently has going on! I've already entered myself.
Now let's recap this week's highlights:
1. Fall is in the air (it's cold), so I finally got to break out one of my new plaid flannels from Old Navy!!! I love pairing plaid with leopard print. It's a fall trend that you should definitely jump on!!! Oh, and I'm also wearing this outfit in my post about hair extensions. For more fall fashion ideas, check out this post to see how I'm wearing my buffalo plaid vest and booties, and check out my Instagram for daily outfit inspiration.
2. One of my favorite pizza places is Gillum's in Richmond, Kentucky. I had to get my engagement ring and wedding band cleaned this week, and the only place to get it done for warranty purposes is in Richmond, so of course I hit up Gillum's. Not only was the food delicious, but Kane and I got to hang out with my friend and her little girl!!! All-around win:)
3. While we were in Richmond, I stopped by JCP because I had a $10 rewards card that expired that night. I ended up finding curtains for our living room for less than $10 per panel! And they were my dream curtains, color + pattern! So for around $28 out-of-pocket after a coupon and my rewards card, I got 4 curtain panels and 3 swim items for Kane for next summer. I was on a roll!!! I'll share pictures of the curtains once I get them hung up.
4. Speaking of hanging out with friends, Kane and his buddy Peyton hit up the park this week. Kane adored this slide and kept going down it. He also kept falling out of it onto the mulch below, but he would just get right back up and go again. And we got to see the ducks that populate the lake. They got up close and personal with us this time.
5. In case you couldn't tell, I love accessories! My favorite are necklaces and earrings. I wear my Origami Owl necklace a lot, because so there are soooo many combinations I can make with it (everything is interchangeable). This week, I put together my Halloween charms and my black locket. I enjoy being able to wear festive accessories without it looking out-of-control. And I just got these howlite earrings from Elisabeth Ashlie in the mail. If you haven't checked out the new collection yet, then you need to now. At only $20, I think these are a great alternative to the more expensive Kendra Scott howlite earrings.
Oh, and did you catch Katie's guest post this week about her Ultimate Summer Favorites to Carry You into Fall???
Thanks for joining us for H54F! Be sure to link-up below and/or let us know how your week's been in the comments!

Follow along on GFC (click link or click button sidebar), Bloglovin' (click link or click button on sidebar), or email (click here). Also, tweet us or use #H54F and we'll retweet your post!


BLOGGERS: Ready to join in the link-up? Just write a blog post about 5 things that made this week! Add your blog post link down below. We ask that you follow each co-host on social media and link back to the link-up. You can even grab the H54F button to add to your post!
Don't forget to visit your fellow linkers and say hi! We recommend visiting the featured blogger + 3 other bloggers–try ones that you haven't visited before:) Drop 'em a comment to let them know that you're visiting from H54F so that they can visit you back.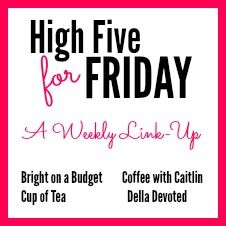 <div class="bright-on-a-budget-button" style="width: 200px; margin: 0 auto;">
<a href="https://www.brightonabudget.com" rel="nofollow">
<img src="http://i40.photobucket.com/albums/e232/coffeewithcaitlin/h54f2_zpsc7e1f4e7.jpg" alt="Bright on a Budget" width="200″ height="200″ />