TGIF, H54F-ers!!! Caitlin at Coffee with Caitlin, Della at Della Devoted, Katie at Cup of Tea, and myself want to welcome you to the link-up and the weekend. We made it!!!

This week's featured H54F-er is Elizabeth from Chasin' Mason. Elizabeth is a lifestyle blogger who has an adorable son, Mason. Mason is autistic, and Elizabeth has shared some about their journey on her blog, which I've found enlightening and inspirational. I first met her when I did a guest post for her #boymom series, and like her even more because she's a Pittsburgh Steelers fan (go Steelers!). You can get to know a little more about her through her recent confessions post.
Now let's recap the highlights of my week:
1. Target's One Spot has been spot-on for fall decorations! I don't like to spend a ton on seasonal decorations because I find it wasteful. This year, however, I've probably spent $20 or so for some adorable fall decorations because the One Spot just sucks me in. . .every single time I go into Target. Anyways, I found this adorable chalkboard sign for just $3. I drew on a chalkboard every week while I was pregnant for a weekly bump pic, so I felt right at home with this charming little board. The best thing is that it's uses are endless and it's not limited to one season/holiday!!!
2. I purchased a new hairspray to try out. It's the Sally's Beauty version of the Kenra 25 volume spray. I'm excited to see how it works and I'll report back in a few weeks when I do a post about what hair products I use.
3. I spent a long weekend at home in eastern Kentucky. I attended a meeting on Monday and was able to meet up with my brother and his girlfriend for an early dinner afterwards. They had helped watch Kane while I was working that day so they brought him along to head back to Lexington with me. We had delicious food and a great time.
4. I've been reading the book The Royal We, which I love! Thanks to Miss in the Midwest for the recommendation.
5. While I was home, Della and Raylan came over to my mother-in-law's house so we could shoot some pictures for the blog. I adore this pic that Della snapped of Kane and I:) Kane and Raylan had a good time playing, although they both wanted to play with an alligator toy at the same time (but not together). You can check out the whole fall look here, and if you want some ideas for fall makeup, you can check out my review of my recent Ipsy glambag here.
Thanks for joining us for H54F! Be sure to link-up below and/or let us know how your week's been in the comments!
Follow along on GFC (click link or click button sidebar), Bloglovin' (click link or click button on sidebar), or email (click here). Also, tweet us or use #H54F and we'll retweet your post!


BLOGGERS: Ready to join in the link-up? Just write a blog post about 5 things that made this week! Add your blog post link down below. We ask that you follow each co-host on social media and link back to the link-up. You can even grab the H54F button to add to your post!
Don't forget to visit your fellow linkers and say hi! We recommend visiting the featured blogger + 3 other bloggers–try ones that you haven't visited before:) Drop 'em a comment to let them know that you're visiting from H54F so that they can visit you back.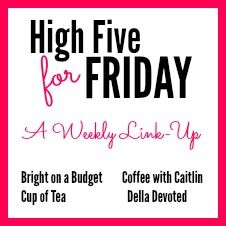 <div class="bright-on-a-budget-button" style="width: 200px; margin: 0 auto;">
<a href="https://www.brightonabudget.com" rel="nofollow">
<img src="http://i40.photobucket.com/albums/e232/coffeewithcaitlin/h54f2_zpsc7e1f4e7.jpg" alt="Bright on a Budget" width="200″ height="200″ />