TGIF, H54F-ers!!! Caitlin at Coffee with Caitlin, Della at Della Devoted, Katie at Cup of Tea, and myself want to welcome you to the link-up and the weekend. We made it!!!

ICYMI, the H54F Google Hangout was moved from last night to this Sunday night (10/25) at 9:30 PM EST and it's going to be all about fall. . .traditions, fashion, food, home decor, etc. Just pop in here earlier on Sunday to get all of the details! Hope you can join in.

This week's featured blogger is Lindsay from the lifestyle blog Pursuit of Pink. She's also a Rodan + Fields consulting. I'm pretty much in love with her Halloween decorations, and cracked up over her post about working out with her toddler in the room (she's about the same age as Kane).
Now let's recap this week's highlights:
1. Friday night was the monthly Market 301 in Lexington. It was held at the newly opened Manchester Music Hall and had tons of great artisans and vendors from around the area! I hung out at the Kentucky Brewed Tees booth, but also had fun browsing all of the other booths. I came home with some new KBT merchandise (perks of being a brand rep) and this awesome bar lotion from Get Smells. I picked up the lavender scent. It's different than you expect lotion to be, but it's moisturizing and the scent is very soothing. Sadly, I missed out on the green tassel necklace from Designs by Ali Rose and now I have to wait for it to be restocked:( And finally, how cute is the Thirsty Hearts Design display???
2. My mom's birthday was Saturday (happy birthday, Mom!), so she and my mother-in-law headed to Lexington to celebrate. We went out to the Cheesecake Factory for a late lunch/early dinner and it was delicious. I'm so glad we got to spend time together.
3. Saturday night, Chauncey and I headed out to celebrate his with friends. We started out at County Boy Brewing, where our friend Kat brought a homemade lava cake with cookie dough ice cream that was delightful! Then we moved to Henry Clay's Public House, hopped over to Table 310, and grabbed pizza and breadsticks at Goodfellas before ending the night at Arcadium. It was crazy fun, but I was exhausted by the time we got home.
4. We went to Bi-Water Farm in Georgetown, Kentucky on Sunday (after having Spalding Donuts for breakfast). Our family was still in town, and it was nice to have the experience together. Kane was all over the place, but that's okay, since that's kind of what it's all about. Nothing makes my heart happy like seeing my little boy grinning big! You can read about our adventure here, and check out my full outfit here.
5. I found velvet hangers for a decent price at Walmart, shirts on clearance for less than $1 in store at Old Navy, and a new pair of eyeglasses. Guys, it's the small things. Seriously.
Thanks for joining us for H54F! Be sure to link-up below and/or let us know how your week's been in the comments!
Follow along on GFC (click link or click button sidebar), Bloglovin' (click link or click button on sidebar), or email (click here). Also, tweet us or use #H54F and we'll retweet your post!


BLOGGERS: Ready to join in the link-up? Just write a blog post about 5 things that made this week! Add your blog post link down below. We ask that you follow each co-host on social media and link back to the link-up. You can even grab the H54F button to add to your post!
Don't forget to visit your fellow linkers and say hi! We recommend visiting the featured blogger + 3 other bloggers–try ones that you haven't visited before:) Drop 'em a comment to let them know that you're visiting from H54F so that they can visit you back.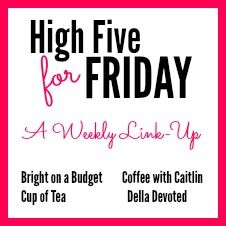 <div class="bright-on-a-budget-button" style="width: 200px; margin: 0 auto;">
<a href="https://www.brightonabudget.com" rel="nofollow">
<img src="http://i40.photobucket.com/albums/e232/coffeewithcaitlin/h54f2_zpsc7e1f4e7.jpg" alt="Bright on a Budget" width="200″ height="200″ />