TGIF, H54F-ers!!! Caitlin at Coffee with Caitlin, Della at Della Devoted, Katie at Cup of Tea, and myself want to welcome you to the link-up and the weekend. We made it!!!

This week's featured blogger is Erin, a lifestyle blogger at Chasing Roots. Erin is a midwest girl living in Texas. She is a mom to two adorable kids, and I really enjoyed her recent post about changing traditions. And she does a weekly "Tuesdays with Tux" feature about her cat, which is pretty cute (he just so happens to look a lot like Sox).

Now let's review this week's highlights:

1. Meeting other bloggers is one of the best parts about this blogging gig. On Sunday, I had brunch with Sheryl from How to Make a Life. It's funny about the people you meet–it turns out Sheryl and I live maybe 10 minutes apart? We had a great time chatting and I look forward to doing it again sometime soon.
2. We took Kane to two trunk-or-treats at local churches last week. Kane flat-out refused to wear his dinosaur costume to either of them, but he had a good time. He really enjoyed getting candy and playing on the inflatables and playground too. Here's hoping he'll wear his costume tomorrow.



3. Target had 40% off of all of their boots yesterday. I hope you all got in on the deal. I know that I did:) Also, since we're talking about clothes/shoes, I thought I'd mention that I've switched up the way I'm doing outfit pictures on Instagram. I bought a full-length mirror from Kirkland's and am now using that.



4. Thursday was National Cat Day. Now that's a day that this crazy cat lady in training can get behind. So here's a picture of Gizmo:)



5. We carved pumpkins on Wednesday night. I also freehand the design of whatever gets carved. This year was a dinosaur. Kane loved it and could tell it was a dinosaur, so that's a win in my book!!! He wasn't a huge fun of the pumpkin guts though.haha




Also, ICYMI:
We had our October H54F Google Hangout last Sunday. You can watch it
here
.

Thanks for joining us for H54F! Be sure to link-up below and/or let us know how your week's been in the comments!
Follow along on GFC (click link or click button sidebar), Bloglovin' (click link or click button on sidebar), or email (click here). Also, tweet us or use #H54F and we'll retweet your post!


BLOGGERS: Ready to join in the link-up? Just write a blog post about 5 things that made this week! Add your blog post link down below. We ask that you follow each co-host on social media and link back to the link-up. You can even grab the H54F button to add to your post!
Don't forget to visit your fellow linkers and say hi! We recommend visiting the featured blogger + 3 other bloggers–try ones that you haven't visited before:) Drop 'em a comment to let them know that you're visiting from H54F so that they can visit you back.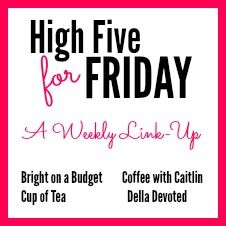 <div class="bright-on-a-budget-button" style="width: 200px; margin: 0 auto;">
<a href="https://www.brightonabudget.com" rel="nofollow">
<img src="http://i40.photobucket.com/albums/e232/coffeewithcaitlin/h54f2_zpsc7e1f4e7.jpg" alt="Bright on a Budget" width="200″ height="200″ />