TGIF, H54F-ers!!! Caitlin at Coffee with Caitlin, Della at Della Devoted, Katie at Cup of Tea, and myself want to welcome you to the link-up and the weekend. We made it!!! And heads-up, at the end of this post are the details for the next H54F Google Hangout on 10/22! And for my Lexington friends, Market 301 is tonight at Manchester Music Hall! I'll be hanging around the Kentucky Brewed Tees table for a portion of the night after 7:30 PM, so stop by and say hi if you see me:) You'll be able to check out their new merchandise for fall, and it's pretty cool!

This week's featured blogger is Stacia from Our Life on a Budget.

Now let's recap this weeks highlights:

1. Chauncey turned 30 this week!!! I don't know where all the time has gone to. When we started dating, I had just turned 16, and he had just turned 17. We went out to dinner with Kane at Old Chicago. We're going to celebrate with friends and other family this weekend.




2. I attended a reception at the Kentucky Governor's Mansion this week. I had been to the capital when I was sworn in as an attorney, but I had never been inside the mansion. Guys, it's absolutely gorgeous!


3. I found my new favorite eyeliner! I'm a huge fan of the cat eye look, and this liner is perfect for it. It's also cheap and easy to apply. What more could you ask for? You can check it out here, along with 3 eye makeup looks for fall!


4. On Sunday, I met my friend Rynetta from Jcrewismyfavstore. We had brunch at Wild Eggs (yum) and had the best time chatting about blogging, picture taking, and Rynetta's time at NYFW. She's just awesome! Be sure to check out her Instagram too. You can check out my complete look here. . . the cardigan and (very similar) shoes are both super affordable additions for your fall wardrobe!


5. After brunch, I ran some errands. . .and by errands, I mean I went shopping.haha "Errands" is what I tell Chauncey I'm doing (he's not fooled). Anyways, Clothes Mentor is one of my favorite places to shop. I love thrifting because of the prices and the chance to find items that sold out in store. I missed out on getting any shorts during the Lilly Pulitzer After Party Sale this year:( I stopped in Clothes Mentor last weekend, though, and they had 2 pairs of the buttercup shorts! One pair even still had the tags on them. Total score! Then I picked up the blue dress I wore to the reception (above) from JCP for only $25. Instant closet staple for this UK fan!
Also, as I'm writing this, I'm snuggled up in bed with Kane watching Disney's The Descendants. It's about the children of some of the best evil villains and our favorite princes and princesses. Brenda from Chatting over Chocolate had posted about the soundtrack, and it reminded me that I wanted to watch this movie. If you're a Disney fan, you totally need to watch it:)
***Our next H54F Google Hangout is next Thursday, October 22nd at 9:30 PM EST. We'll be chatting ALL ABOUT FALL!!! Decorations, traditions, favorite recipes, HOCUS POCUS–it's going to be fun. Hope you can join us! We'll all have a post up on Thursday describing what you need to do to join in:)***
Thanks for joining us for H54F! Be sure to link-up below and/or let us know how your week's been in the comments!
Follow along on GFC (click link or click button sidebar), Bloglovin' (click link or click button on sidebar), or email (click here). Also, tweet us or use #H54F and we'll retweet your post!


BLOGGERS: Ready to join in the link-up? Just write a blog post about 5 things that made this week! Add your blog post link down below. We ask that you follow each co-host on social media and link back to the link-up. You can even grab the H54F button to add to your post!
Don't forget to visit your fellow linkers and say hi! We recommend visiting the featured blogger + 3 other bloggers–try ones that you haven't visited before:) Drop 'em a comment to let them know that you're visiting from H54F so that they can visit you back.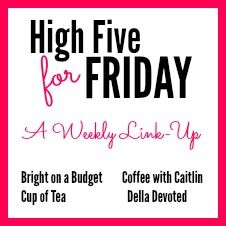 <div class="bright-on-a-budget-button" style="width: 200px; margin: 0 auto;">
<a href="https://www.brightonabudget.com" rel="nofollow">
<img src="http://i40.photobucket.com/albums/e232/coffeewithcaitlin/h54f2_zpsc7e1f4e7.jpg" alt="Bright on a Budget" width="200″ height="200″ />