TGIF, H54F-ers!!! Caitlin at Coffee with Caitlin, Della at Della Devoted, Katie at Cup of Tea, and myself want to welcome you to the link-up and the weekend. We made it!!!

This week's featured blogger is Tiff from Terry's Go Round. Tiff is a lifestyle blogger. She's also a former TV reporter who just started her own photography business. She takes some awesome pics (like these autumn ones)! Her two kids had the most adorable Halloween costumes that were totally DIY. She has some other fabulous tutorials and recipes too.

Let's recap this week's highlights:

1. We took Kane trick-or-treating. He refused to wear a good portion of the dinosaur costume we got him, but he wore enough of it so that people got the idea of what he was. One little girl petted the "cute dinosaur." Now the craziness of guarding the Halloween candy starts. I told him he comes have 1 piece. Now he runs up to me with one finger held up saying, "One piece! One piece! One piece!" Of course one is never enough.



2. Basketball season has started, and we were lucky enough to get some great seats to the UK exhibition game this week. Kane and I met Jacque and Courtney, two new friends, for dinner at Saul Good before the game and then we all headed over to Rupp Arena. The food was delicious, and Kane was reasonably well-behaved (parenting win)!!!



3. My co-workers threw me a surprise birthday party on Wednesday. They're the best! They even got me pizza without pizza sauce. Now that's some love right there:) Oh, and I was at the office until 9 p.m. last night, so the leftovers were just as good.
4. Chauncey and Kane took me out to the Cheesecake Factory for dinner on my birthday, which is my favorite. YUMMY. I got the ultimate red velvet cheesecake. They also got me some sweet gifts: a nice digital picture frame uploaded with some of my favorite pics, the new Twilight book (judge away), and a new Kate Spade umbrella because my old IKEA one had broke. Upgrade!!!
My birthday also including another trip to the doctor. This week has been a health rollercoaster and I'm over it. I just want to feel better!!!
5. We finally got our TV mounted downstairs!!! It looks great and I'm so glad to have that checked off the never-ending list of household to-dos.
And ICYMI this week, I wanted to share two posts! First, if you're on the lookout for cute vests that are CHEAP, then I've done you a favor because I rounded up 6 adorable vests for great deals (2 are only $12 each!!!). Second, to celebrate my birthday, I've teamed up with some blogging buddies to giveaway a pair of Kendra Scott earrings and a $105 Sephora gift card–you can enter to win here, and be sure to check out all of the other bloggers involved. I love each and every one of their blogs!!!
Thanks for joining us for H54F! Be sure to link-up below and/or let us know how your week's been in the comments!
Follow along on GFC (click link or click button sidebar), Bloglovin' (click link or click button on sidebar), or email (click here). Also, tweet us or use #H54F and we'll retweet your post!


BLOGGERS: Ready to join in the link-up? Just write a blog post about 5 things that made this week! Add your blog post link down below. We ask that you follow each co-host on social media and link back to the link-up. You can even grab the H54F button to add to your post!
Don't forget to visit your fellow linkers and say hi! We recommend visiting the featured blogger + 3 other bloggers–try ones that you haven't visited before:) Drop 'em a comment to let them know that you're visiting from H54F so that they can visit you back.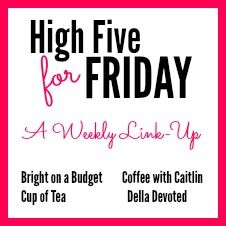 <div class="bright-on-a-budget-button" style="width: 200px; margin: 0 auto;">
<a href="https://www.brightonabudget.com" rel="nofollow">
<img src="http://i40.photobucket.com/albums/e232/coffeewithcaitlin/h54f2_zpsc7e1f4e7.jpg" alt="Bright on a Budget" width="200″ height="200″ />