TGIF, H54F-ers!!! Caitlin at Coffee with Caitlin, Della at Della Devoted, Katie at Cup of Tea, and myself want to welcome you to the link-up and the weekend. We made it!!!

This week's featured blogger is Annie from All Things Big and Small, a DIY lifestyle blog. Annie is a SAHM and posts about the coolest projects. Check out these instructions to make a DIY Fabric-Covered Headboard. I also like this post about what's in her diaper bag.

Now let's recap this week's highlights:

1. Friday was a good mail day. I won this "hello" sign from Brushing Our Way Through Life and The Golden Ostrich!!! Psst–I also love their "merry & bright" sign. The sign is very sturdy and well-made. My new gameday blanket scarf also came in (GO STEELERS), and so did my Kendra Scott earrings (I exchanged the Lee for the Dani). Yay!


2. Thursday was a good mail day too! My birthday gift from Della arrived, and let me tell you what that sneaky so-and-so did.haha She knew I was dying for this necklace from Designs by Ali Rose that I let slip away at the last Market 301. . .so she conspired with Ali to prevent me from purchasing the necklace. When I opened the mail, it was like I hit the lottery. I mean, look at all these goodies! There was also a UK charm for my Origami Owl necklace. Thanks again, friend! And be sure to check out Ali's shop for all of the fashionistas on your Christmas list. Or yourself. Whichever;) She is offering 15% off until December 24 with code christmas15.




3. Chauncey was off work on Thursday, so not only did he clean up my closet, which took a great feat to accomplish, but he also met me out for lunch. We went to Malone's, which is one of my favorite places to eat. It's not often we get to enjoy a meal by ourselves. And although we talked about Kane most of the time, it was so nice to just connect. The food was phenomenal, of course, and I was in a food coma the rest of the afternoon.

4. Christmas is like a month and a half away (eek!) and while I pick up gifts here and there all year, I hadn't really done any Christmas shopping. So even though I was exhausted, I headed to the Outlet Shoppes of the Bluegrass. Chauncey watched Kane and let me have the day to knock out some gift buying. I shopped til I dropped! Kate Spade and Gap Factory had the best deals that day. And did any of you all let this gorgeous watch pass you by last year when it was $225??? I loved it but wasn't paying that much. I scored it on Saturday for $108:)


5. Who else is LOVING fall fashion and has already broken out the blanket scarves??? Here are two of my favorite outfits of the week. If you are looking for super affordable blanket scarves, be sure to check AliExpress and Ebay! Blanket scarves for less than $10?! Yes, please. Both of the ones in this post came from AliExpress. Remember to follow along on Instagram for daily outfit inspiration.



ICYMI: this week I was posting about burgundy and navy fall florals and how I style plaid.

Thanks for joining us for H54F! Be sure to link-up below and/or let us know how your week's been in the comments!
Follow along on GFC (click link or click button sidebar), Bloglovin' (click link or click button on sidebar), or email (click here). Also, tweet us or use #H54F and we'll retweet your post!


BLOGGERS: Ready to join in the link-up? Just write a blog post about 5 things that made this week! Add your blog post link down below. We ask that you follow each co-host on social media and link back to the link-up. You can even grab the H54F button to add to your post!
Don't forget to visit your fellow linkers and say hi! We recommend visiting the featured blogger + 3 other bloggers–try ones that you haven't visited before:) Drop 'em a comment to let them know that you're visiting from H54F so that they can visit you back.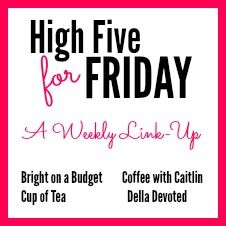 <div class="bright-on-a-budget-button" style="width: 200px; margin: 0 auto;">
<a href="https://www.brightonabudget.com" rel="nofollow">
<img src="http://i40.photobucket.com/albums/e232/coffeewithcaitlin/h54f2_zpsc7e1f4e7.jpg" alt="Bright on a Budget" width="200″ height="200″ />