TGIF, H54F-ers!!! Caitlin at Coffee with Caitlin, Della at Della Devoted, Katie at Cup of Tea, and myself want to welcome you to the link-up and the weekend. We made it!!!

This post comes with a warning. It is 3:32 a.m. on Black Friday and I just made it home not too long ago from shopping with Della. I am tired, so if this post doesn't make sense, please forgive me. . .I'm sleep deprived but at least I got some good deals!

I hope everyone had a wonderful Thanksgiving. I have so many blessings for which to be thankful. Here at H54F, one of the things we're thankful for is our H54F blogging community!!! Instead of picking just one featured blogger, we want you to know that we're thankful for each and every one of you!

Now let's recap this week's highlights, which are all things I am thankful for:

1. Thanksgiving with my family was awesome. It was sad because it was the first year without my aunt Sis here, but at the same time, I'm very thankful for all of my family that I am blessed to still have with me. Most of my family ended up at my mom's house. The food was delicious and the company was great. Then we headed over to my mother-in-law's, and the same can be said for there.



2. After Thanksgiving dinner, I took Kane to watch the Good Dinosaur at the movie theater where my brother works. They had fun crafts before the movie. The movie itself was adorable, and I highly recommend it.




3. Then, after the movie, Della and I headed out to do some early Black Friday shopping. I did most of my shopping online already this week since so many of the sales started early, but it's become a tradition for us to hit up Bath & Body Works and Walmart in-store. Funny story–on our way there, we were in a road check, and I dropped my license between the seat and the console after the officer handed them back to me. I told Della to remind me to retrieve my license, but of course we forgot by the time we made it to our destination. Well, here we go to head back home and hit the same road check. . .with my license under the seat. The officer ended up letting me pass through after I tried in vain to reach it from under the seat. Only me, guys.


4. Market 301 was last weekend, and I hit it up on Saturday. I chilled at the Kentucky Brewed Tees booth. Not only did I snag some great Christmas gifts, but I also worked on putting together a collaboration coming soon to the blog:) PS–if you're in eastern Kentucky, KBT is having an open house at their storefront in Paintsville tomorrow, November 28, from 10 am to 4 pm (I believe). Stop by if you get the chance, and mention code BRIGHT to save 10%! Ohhh, and you should check out these girlies that I chatted up– Girl Meets Lex and Get Smells!!




5. Sleep. I need it desperately and it's about to be a highlight, so that counts, right???

And because saving $$$ is what I do, here's some posts to help you out with Black Friday 2015:


Black Friday Survival Guide
Thanks for joining us for H54F! Be sure to link-up below and/or let us know how your week's been in the comments!
Follow along on GFC (click link or click button sidebar), Bloglovin' (click link or click button on sidebar), or email (click here). Also, tweet us or use #H54F and we'll retweet your post!


BLOGGERS: Ready to join in the link-up? Just write a blog post about 5 things that made this week! Add your blog post link down below. We ask that you follow each co-host on social media and link back to the link-up. You can even grab the H54F button to add to your post!
Don't forget to visit your fellow linkers and say hi! We recommend visiting the featured blogger + 3 other bloggers–try ones that you haven't visited before:) Drop 'em a comment to let them know that you're visiting from H54F so that they can visit you back.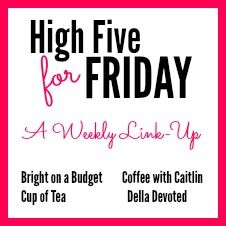 <div class="bright-on-a-budget-button" style="width: 200px; margin: 0 auto;">
<a href="https://www.brightonabudget.com" rel="nofollow">
<img src="http://i40.photobucket.com/albums/e232/coffeewithcaitlin/h54f2_zpsc7e1f4e7.jpg" alt="Bright on a Budget" width="200″ height="200″ />