TGIF, H54F-ers!!! Caitlin at Coffee with Caitlin, Della at Della Devoted, Katie at Cup of Tea, and myself want to welcome you to the link-up and the weekend. We made it!!!
This week's featured blogger is Tanya from Prairie Girl in the Big, Scary World. Tanya is a lifestyle blogger and I love how her little about under her picture sums it up: "Wife. Explorer. Crazy cat lady. A small town Saskatchewan girl traveling the world." You know we love us some crazy cat ladies around here (and we're slowly working to get Katie to come over to the dark side). She recently moved from NYC to Florida, and did her NYC Top 10 List. For those of us still in cold weather, she shared a slow cooker beef stew recipe and a little bit about how her new life is.
Now let's recap this week's highlights:
To start things off, my brother turned 23 yesterday!!! I don't know where the time's gone. . .it seems like just yesterday I was 6 years old and looking forward to having a baby brother (I didn't know what I was getting into). Happy birthday, Richard!
1. Chauncey and I had an honest-to-goodness date night on Saturday!!! We ate at one of my favorite restaurants–Pig in a Poke in Prestonsburg, Kentucky:) I had mozzarella cheesesticks and loaded fries minus the ranch dressing (ew). It's so nice to have a night away sometimes to recharge.
2. My favorite Black Friday week purchase came in! I purchased the Canon Rebel T5 kit with the regular lens and the zoom lens for $399, picked up the 50mm lens for $110 ($15 off), and added a one-year warranty including accidental drops (because 1. I like to drop things and 2. I have a toddler) for $40. All-around win! It was used to shoot both other blog posts this week, which I'll link at the bottom of this post in case you missed them. . .lots of holiday goodness!
3. My favorite outfit from this week:
4a. Another sale I hit up last week was Purple Peridot's flash sale, and everything shipped super quickly. I purchased the white crystal Luminous Virtue Bracelet shown below, the ruby red version of the bracelet, and a bow necklace. I'd had my eye on all of these pieces for a while, so I was excited to add them to my collection!
4b. Speaking of receiving packages, I received an awesome package in the mail! My IG friend Terri found the Merry & Bright sweatshirt I was looking for and sent it to me!!! She's awesome and has great style, so you should totally follow her for outfit inspiration.
5. We had a family date night on Thursday night at Old Chicago. I don't want to jinx it, but taking Kane out now vs. taking Kane out 3 or 4 months ago is an entirely different ballgame. He behaves pretty well now when we go out places instead of acting like he just escaped from the zoo. The food was delicious. It's been cold around here so it really hit the spot!
And ICYMI it this week, I'm helping you get into the holiday spirit and spread a little holiday cheer! Check out my Christmas Chic Style post (December's How I Style It Linkup) for a stylish but festive outfit, and my tutorial for an easy bronze smokey eye, perfect for holiday parties.
Thanks for joining us for H54F! Be sure to link-up below and/or let us know how your week's been in the comments!
Follow along on GFC (click link or click button sidebar), Bloglovin' (click link or click button on sidebar), or email (click here). Also, tweet us or use #H54F and we'll retweet your post!


BLOGGERS: Ready to join in the link-up? Just write a blog post about 5 things that made this week! Add your blog post link down below. We ask that you follow each co-host on social media and link back to the link-up. You can even grab the H54F button to add to your post!
Don't forget to visit your fellow linkers and say hi! We recommend visiting the featured blogger + 3 other bloggers–try ones that you haven't visited before:) Drop 'em a comment to let them know that you're visiting from H54F so that they can visit you back.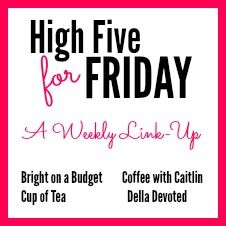 <div class="bright-on-a-budget-button" style="width: 200px; margin: 0 auto;">
<a href="https://www.brightonabudget.com" rel="nofollow">
<img src="http://i40.photobucket.com/albums/e232/coffeewithcaitlin/h54f2_zpsc7e1f4e7.jpg" alt="Bright on a Budget" width="200″ height="200″ />