TGIF, H54F-ers!!! Caitlin at Coffee with Caitlin, Della at Della Devoted, Katie at Cup of Tea, and myself want to welcome you to the link-up and the weekend. We made it!!!
This week's featured blogger is Bri at School in Our Slippers. School in Our Slippers is a lifestyle blog that started out with a focus on homeschooling but has transitioned more into a blog about Bri's everyday life–being a mom to 3 kids, yummy recipes, and getting in shape after Baby #3. She recently did a Secret Santa book reveal (her book looks very interesting) and she likes Charlie Brown🙂

If you're in Lexington, be sure to stop by Market 301 this weekend! I'll be there tonight, so if you see me at the Kentucky Brewed Tees booth, say hi:) And speaking of local shops, be sure to check out the giveaway mentioned below!

Now let's recap this week's highlights:

1. One of my best friends from law school was in town on Friday night, so we had dinner at the Cheesecake Factory. We're both from eastern Kentucky, so we just connect. It's always fun when we get together!

2. Kane and I played outside on Saturday and Sunday because the weather was GORGEOUS! Kane especially loved rolling around in the leaves. Shoutout to my neighbors for having such leafy trees!


3. We hit up Hillenmeyer Christmas Shop on Sunday morning, and it was magical! You can read all about it here. I got to roast marshmallows (don't worry–I didn't injure myself or anyone else.haha) and chill with Santa.



4. How about this cuteness? This never happens. Sox looks very scandalized at being caught. #crazycatladiesunite


5. I went to a Women's Forum on Wednesday evening. It was a wine tasting + pairing class at Wine + Market in downtown Lex. I don't drink, but the wine was pretty and the conversation was good. It was a wonderful event!
ICYMI:
I put together a Kentucky Shop Local Gift Guide + Giveaway, which you can read about and enter the giveaway here. Everything that is featured as part of the gift guide is included in the giveaway (either the actual item itself or a credit to the shop, as stated in the post)!!! Enter here.
Thanks for joining us for H54F! Be sure to link-up below and/or let us know how your week's been in the comments!
Follow along on GFC (click link or click button sidebar), Bloglovin' (click link or click button on sidebar), or email (click here). Also, tweet us or use #H54F and we'll retweet your post!


BLOGGERS: Ready to join in the link-up? Just write a blog post about 5 things that made this week! Add your blog post link down below. We ask that you follow each co-host on social media and link back to the link-up. You can even grab the H54F button to add to your post!
Don't forget to visit your fellow linkers and say hi! We recommend visiting the featured blogger + 3 other bloggers–try ones that you haven't visited before:) Drop 'em a comment to let them know that you're visiting from H54F so that they can visit you back.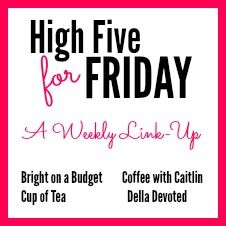 <div class="bright-on-a-budget-button" style="width: 200px; margin: 0 auto;">
<a href="https://www.brightonabudget.com" rel="nofollow">
<img src="http://i40.photobucket.com/albums/e232/coffeewithcaitlin/h54f2_zpsc7e1f4e7.jpg" alt="Bright on a Budget" width="200″ height="200″ />