TGIF, H54F-ers!!! Caitlin at Coffee with Caitlin, Della at Della Devoted, Katie at Cup of Tea, and myself want to welcome you to the link-up and the weekend. We made it!!!

Announcement: the link-up will be taking a break on next Friday since it's Christmas Day. We'll return on the next Friday, which is New Year's Day with a 2-week recap:) We hope everyone has a Merry Christmas and Happy Holidays!!!

This week's featured blogger is Tabitha from A Hundred Tiny Wishes. A Hundred Tiny Wishes is a lifestyle blog. Tabitha just shared a roundup of her favorite Christmas cookies and candies, and I loved her post about 20 things she learned in her twenties (she just turned 30). She also has a pretty cute Etsy shop featuring decorated glassware and jewelry that you should check out!

Now let's recap the highlights of the week:

1. Market 301 Holiday Edition was last Friday, and I was able to pick up several gifts there, including handmade ornaments and a special something for Chauncey. How cute is Sunday Fashioner's booth? I'm dying for one of those plaid pillows!!! Lacy, the shop owner, is taking a short break for the holidays, but you can sign-up to get a notification when the shop reopens.


2. On Saturday, my mom and mother-in-law came down for the weekend. We all went out to Chuy's to eat, and then they headed home with Kane while Chauncey went to a friend's house to watch UFC and I hit up the mall. I had a bunch of little errands to run. I also had to spend my Sephora Beauty Insider $15 off $50 coupon because it was expiring (too good of a deal to pass up). It's always fun to experiment in Sephora. I was really disappointed that they were booked up on makeovers, though, because I always like to see what other people think I should be wearing makeup-wise.

3. Chauncey and I headed up to the Bengals v. Steelers game on Sunday with some friends that are Bengals fans. This is a yearly tradition for us. It was an awesome game because THE STEELERS WON!!!! Um, and I got to eat stadium nachos and cheese. Yum:)



4. While at Market 301, I stumbled across a new seller, C Buxton Art. I fell in love with this big flamingo print, but they were sold out by the time I went back to pick it up. So Christina dropped one off at my office, along with both of her collections of desk prints (each collection contains quite a few small prints)! All of her work is awesome, and I look forward to include these items in the gallery wall I'm working on. Thanks, Christina!



5. I got my Christmas cards in on Wednesday and back out in the mail yesterday! And I finally got some presence wrapped and a little bit of decorations on my tree. Now, if I can just finish everything up this weekend. . .



Also, I wanted to share my top holiday traditions:

1. Hearing the Christmas story.
2. Opening gifts at the edge of dark on Christmas Eve–so much anticipation growing up! Now that we have Kane, we started the tradition last year of opening gifts at our house on December 23 so that we could have time with just our little family. And we'll have several family get-togethers that I always look forward to.
3. Watching Christmas movies–this includes a Charlie Brown Christmas, Rudolph, Frosty, and the Grinch. Confession: I hate A Christmas Story. There, I said it.
4. Chauncey and my mamaw always used to wrap each other a gift that was next to impossible to open. It was always funny seeing them try to open their gifts. I really miss this.
5. Seeing the lights! There's a house we always go see off of Chinoe here in Lex, and I love just driving around seeing how people have decorated.
6. Taking Kane to see Santa. This year we added Hillenmeyer's Christmas Shop into our rotation.
7. Listening to Christmas carols.
And ICYMI, here's this week's posts:
Need a little outfit for the holidays? I'm sharing my
Merry & Bright outfit
featuring a not-so-ugly Christmas sweater, tulle, and plaid. If graphic tees and pants are more your thing, you can check out my other holiday outfit idea
here
.
Are you kicking yourself because there's so much left to do and not a lot of time to do it? Check out my
Last Minute Christmas Prep
post for a mini-checklist of sorts. I'm also sharing some of my blogging buddies' various Christmas posts to spread some extra holiday cheer and give you a little inspiration to get across the finish line (recipes, gift tags, holiday decor, etc.)!

Thanks for joining us for H54F! Be sure to link-up below and/or let us know how your week's been in the comments!
Follow along on GFC (click link or click button sidebar), Bloglovin' (click link or click button on sidebar), or email (click here). Also, tweet us or use #H54F and we'll retweet your post!


BLOGGERS: Ready to join in the link-up? Just write a blog post about 5 things that made this week! Add your blog post link down below. We ask that you follow each co-host on social media and link back to the link-up. You can even grab the H54F button to add to your post!
Don't forget to visit your fellow linkers and say hi! We recommend visiting the featured blogger + 3 other bloggers–try ones that you haven't visited before:) Drop 'em a comment to let them know that you're visiting from H54F so that they can visit you back.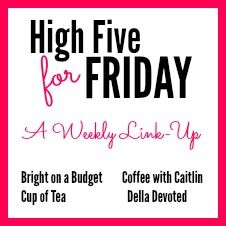 <div class="bright-on-a-budget-button" style="width: 200px; margin: 0 auto;">
<a href="https://www.brightonabudget.com" rel="nofollow">
<img src="http://i40.photobucket.com/albums/e232/coffeewithcaitlin/h54f2_zpsc7e1f4e7.jpg" alt="Bright on a Budget" width="200″ height="200″ />