This post contains affiliate links.
TGIF, H54F-ers!!! Caitlin at Coffee with Caitlin, Della at Della Devoted, Katie at Cup of Tea, and myself want to welcome you to the link-up and the weekend. We made it!


Can you believe it's already 2016?! I can remember celebrating like it was 1999. . . and actually celebrating 1999. . .and now that's almost 20 years ago! Man how the time flies. For each and every one of you, I hope this is the BEST year yet!!!
Housekeeping: There's no featured blogger today since we weren't for sure how many people would be blogging on New Year's Day, but the featured blogger will return next week. The looks of H54F will also be changing some, as we're going to be switching link-up tools to enhance the H54F experience in the next couple of weeks. And mark your calendars–the next H54F Google Hangout will be January 14. We are excited to hop back into the hangouts. We love connecting with you all!
Now that's outta the way, let's recap the highlights of the last TWO weeks:
1. I had some vacation days left that were set to expire yesterday, so I took 3 days off the week of Christmas for a full week vacation! I kicked it off on Monday afternoon with some mac 'n cheese from Panera and an appointment at
Posh Salon & Spa
in Lexington. I had a pedicure by Lisa and a trim by Jana Harris. Love both of these ladies and highly recommend them. If you happen to check them out, be sure to mention that I recommended you!
2. We celebrated Christmas with Kane on December 23 before he headed home from the holidays the next morning. He loved all of his gifts, but this little set was probably his favorite from us. He wouldn't put this set down while he opened everything else. And does anyone notice the creeper in the background (no, I'm not talking about the snowman.haha)?
3. Being home for Christmas was a whirlwind, but so nice. We had several get-togethers with both sides of the family, and both my mom and mother-in-law cooked some delicious meals. There's nothing like being home for the holidays! Here I am wearing a couple of my favorite gifts–a pink vest from Gap Factory and a new turtleneck in a tall size from JCP.
5. We had a low-key NYE at home last night! I had one last vacay day to use, so I spent it at home with Kane. I read most of the day and spent time with him. After Chauncey came home, we ordered pizza and snuggled in bed while watching Inside Out, which we all loved. Even Sox got into the NYE spirit.
Thanks for joining us for H54F! Be sure to link-up below and/or let us know how your week's been in the comments!
Follow along on GFC (click link or click button sidebar), Bloglovin' (click link or click button on sidebar), or email (click here). Also, tweet us or use #H54F and we'll retweet your post!


BLOGGERS: Ready to join in the link-up? Just write a blog post about 5 things that made this week! Add your blog post link down below. We ask that you follow each co-host on social media and link back to the link-up. You can even grab the H54F button to add to your post!
Don't forget to visit your fellow linkers and say hi! We recommend visiting the featured blogger + 3 other bloggers–try ones that you haven't visited before:) Drop 'em a comment to let them know that you're visiting from H54F so that they can visit you back.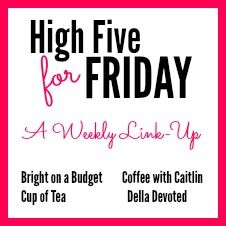 <div class="bright-on-a-budget-button" style="width: 200px; margin: 0 auto;">
<a href="https://www.brightonabudget.com" rel="nofollow">
<img src="http://i40.photobucket.com/albums/e232/coffeewithcaitlin/h54f2_zpsc7e1f4e7.jpg" alt="Bright on a Budget" width="200″ height="200″ />