TGIF, H54F-ers!!! Caitlin at Coffee with Caitlin, Della at Della Devoted, Katie at Cup of Tea, and myself want to welcome you to the link-up and the weekend. We made it!
Today's featured blogger is Crystal from And Blue Sky, a lifestyle blog. Crystal has been blogging since 1999 and just recently switched to blogging at And Blue Sky for a blogging shakeup. She's a crazy cat lady too:) I loved her
review of the Cat Lady Box
.
Guys, you all know I keep it honest around here, right? So I'm going to be honest about my week. It's been a rough one. My aunt Tonetta passed away from cancer this week. She and my other aunt who passed away from cancer in March of last year were diagnosed days apart in 2012. Cancer sucks. But I'm still doing my highlights from this week, because you have to find the joy amongst the sorrow and focus on the happiness.
Now, let's recap this week's highlights:
1. Yesterday made 13 y-e-a-r-s since Chauncey and I started dating. I'll share what I posted on FB along with the throwback picture:
Today makes 13(!) years since
Chauncey
and I started dating. I was 16 and he was 17. We were young, dumb, and in love. I look back and am in awe of the life we've built together since then. Our life is not perfect, but it's the story of the love and laughter, the heartache and tears, contained in those years that leaves me in awe. We grew up together and chased our dreams, and even now continue to chase our dreams as they grow and expand. We have a son who is the joy of our lives. So the next time you want to tell someone that high school love never lasts, instead tell them that sometimes high school love never dies.?
This pic is from the 1st week we started dating, and it was Chauncey's 1st time over at my house. You can see my brother creeping in the mirror, and the big CRT monitor in the background.
2. Chauncey, Kane, and I had a great weekend. We had 2 family dates–one at Applebee's and one at Outback. And then we just relaxed. Perfect weekend!
3. The Lilly After Party Sale was Monday! I was able to shop online at one of the signature stores on Sunday night to score my most-coveted item, an Elsa in Catwalkin. I was #687ish online at 8 a.m. when the sale started, and was able to grab 3 items I loved. That package already arrived. Then I scored a dress from another signature store. There's only 2 times when I shop Lilly: (1) twice a year during the After Party Sale and (2) resale, like from Clothes Mentor in Lexington. Needless to say, I was super excited.
4. Speaking of shopping and thrifting, I just purchased my 1st pair of Tory Burch flats off of the
Goodwill auction website
for $47. I will update once I receive them and find out if they fit.
5. The
blog FB page
finally hit 1,000 likes, and I won a giveaway from my friend Arlene over at
Nanaland
!
And ICYMI, there's tons of goodies on the blog this week:
2. Snowed in Style
Thanks for joining us for H54F! Be sure to link-up below and/or let us know how your week's been in the comments!
Follow along on GFC (click link or click button sidebar), Bloglovin' (click link or click button on sidebar), or email (click here). Also, tweet us or use #H54F and we'll retweet your post!


BLOGGERS: Ready to join in the link-up? Just write a blog post about 5 things that made this week! Add your blog post link down below. We ask that you follow each co-host on social media and link back to the link-up. You can even grab the H54F button to add to your post!
Don't forget to visit your fellow linkers and say hi! We recommend visiting the featured blogger + 3 other bloggers–try ones that you haven't visited before:) Drop 'em a comment to let them know that you're visiting from H54F so that they can visit you back.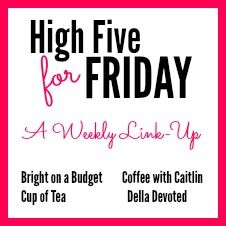 <div class="bright-on-a-budget-button" style="width: 200px; margin: 0 auto;">
<a href="https://www.brightonabudget.com" rel="nofollow">
<img src="http://i40.photobucket.com/albums/e232/coffeewithcaitlin/h54f2_zpsc7e1f4e7.jpg" alt="Bright on a Budget" width="200″ height="200″ />