TGIF, H54F-ers!!! Caitlin at Coffee with Caitlin, Della at Della Devoted, Katie at Cup of Tea, and myself want to welcome you to the link-up and the weekend. We made it!

Announcements: Starting next week, the H54F link-up will go live at 8 a.m. eastern time instead of 7 a.m. eastern time. Also, we will finally switch our link-up tool to one that utilizes thumbnails. We are so excited for the changes we have planned for the link-up this year!!!


Today's featured blogger is Holly from While I'm Waiting, a lifestyle blog. You can read the interesting story behind the blog's name
here
. She hosts a weekly
While I'm Waiting. . .Wednesday link-up
. She has an
interesting, insightful post
on the Konmari method of tidying up that you should read (that's the new tidying craze that's you've probably heard about).
Now let's recap this week's highlights:
1. My favorite item from the Lilly sale was waiting on me when I got home on Sunday–the Elsa top in Tropical Pink Catwalkin. So I popped the tags on it and wore it yesterday! I'm so glad that I convinced myself to finally buy an Elsa top.
2. We had a H54F Google Hangout last night. It was completely random, per usual, but you can check it out here (why did the stillshot have to be of a random, goofy face of mine?).

3. Victoria's Secret has an additional 40% off of their clearance sale in-store. I hopped in yesterday evening and they still had a great selection.
4. Kane and I made a pizza before Chauncey got home on Tuesday night. It was a cold, snowy day, but a hot homemade pizza sure hit the spot. I love this age that Kane is at right now, and am excited to do new things, like cooking, with him.
5. Della and I got to shoot some outfit photos together! You can see my outfit here and hers here. We always have fun when we get together, and that day was no different. Sometimes you just need a few minutes with a good friend to brighten your day:)
Also, on Tuesdays this month I'm co-hosting the Bloggers Who Inspired Me linkup with Garay Treasures. Be sure to check it out and link-up your posts from throughout the week. I'll be selecting a couple of posts to share each week. The link-up goes live at midnight eastern time on Tuesday mornings.
And, for all my Southern friends who have blessed someone's heart, I've teamed up with Darling South to giveaway TWO of their Southern Words tees!!! Head on over to Instagram and find the picture below to find out how to enter:
Thanks for joining us for H54F! Be sure to link-up below and/or let us know how your week's been in the comments!
Follow along on GFC (click link or click button sidebar), Bloglovin' (click link or click button on sidebar), or email (click here). Also, tweet us or use #H54F and we'll retweet your post!


BLOGGERS: Ready to join in the link-up? Just write a blog post about 5 things that made this week! Add your blog post link down below. We ask that you follow each co-host on social media and link back to the link-up. You can even grab the H54F button to add to your post!
Don't forget to visit your fellow linkers and say hi! We recommend visiting the featured blogger + 3 other bloggers–try ones that you haven't visited before:) Drop 'em a comment to let them know that you're visiting from H54F so that they can visit you back.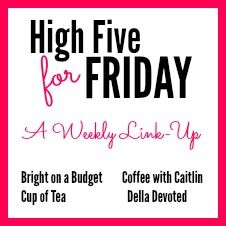 <div class="bright-on-a-budget-button" style="width: 200px; margin: 0 auto;">
<a href="https://www.brightonabudget.com" rel="nofollow">
<img src="http://i40.photobucket.com/albums/e232/coffeewithcaitlin/h54f2_zpsc7e1f4e7.jpg" alt="Bright on a Budget" width="200″ height="200″ />