This post contains affiliate links.

TGIF, H54F-ers!!! Caitlin at Coffee with Caitlin, Della at Della Devoted, Katie at Cup of Tea, and myself want to welcome you to the link-up and the weekend. We made it!

For those of you who, like me, are in winter storm Jonas' path, I hope we all stay safe and warm! Forget the milk and bread, I got the essentials, so I'm ready to roll–2 packs of the new Cinnamon Bun Oreos, the makings for a homemade pizza, some gloves, and a new car battery curtesy of a 3 hour wait for AAA yesterday morning.
REMINDER: The link-up will be going live at 8 a.m. eastern time from today forward, instead of 7 a.m.

This week's featured blogger is Melissa from
The Happy Little Hive
, a lifestyle blog. There's all kinds of fun over at her website, including
yummy recipes
and
these DIY needlepoint Valentine's Day coasters
. She loves to read, and has some great suggestions of
what's on her bookshelf
.
Now, let's recap this week's highlights:
1. Saturday was so much fun. I kicked it off by going to a baby shower for one of my best friend's from law school, and some of my other best friends from law school were there. It was so incredibly nice to see everyone and celebrate my sweet friend, especially since we don't get to see each other a lot. Then Chauncey, Kane, and I headed out to a birthday dinner for my best friend from Lexington (who else has best friends they've made by location or time in life???) at a local Mexican restaurant. It was fun, especially since she has a little boy that's about a year younger than Kane.
2. On Sunday, I had brunch with Sheryl from How to Make a Life. We met up at First Watch, where I had the most delicious chocolate chip pecan pancakes. Yum. Sheryl and I always have so much to chat about that the time passes quickly.
3. The look on your face when you're excited to see snow. . .I told Kane to go look out the window as soon as he got up, and I asked him what he saw. He said, " Snowplakes, momma, snowplakes!" He got to play outside that day after we got home from daycare, and then cried to go back out and "play snowman."
4. OMG–the master bedroom is painted! I repeat, the master bedroom is painted!!! I'm totally in love with how it turned out, which is good, because I was sore as could be after I finished.lol I'm working on my desk area this weekend, and a full reveal will be coming to the blog soon!

5. I got my $2.99 Julep Maven box in the mail. Julep Maven is a monthly subscription box that is regular $24.99, but with the code SNOWDAY you can get your 1st box free. . .you just pay $2.99 for shipping. This is an awesome deal. I love the nail polish from this brand, and the eyeliner I got in my box was really nice too. You take a quiz and that determines what's in your box. I chose the It Girl option and let them know that I was more interested in makeup. If you don't want to do a monthly subscription past the free box, just cancel your subscription as soon as you get the box. Click here to get your own.



By the way, I made it to the Top 10 of The Thrifty Pineapple's outfit contest!!! I'd really appreciate it if you'd please head over and vote for me here–I'm #8 Tif. I really appreciate everyone who has already voted for me and helped me to make it this far!
And ICYMI, here's this week's posts:
And a code to get a month free so you can try it out!


Thanks for joining us for H54F! Be sure to link-up below and/or let us know how your week's been in the comments!
Follow along on GFC (click link or click button sidebar), Bloglovin' (click link or click button on sidebar), or email (click here). Also, tweet us or use #H54F and we'll retweet your post!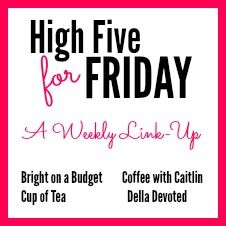 <div class="bright-on-a-budget-button" style="width: 200px; margin: 0 auto;">
<a href="https://www.brightonabudget.com" rel="nofollow">
<img src="http://i40.photobucket.com/albums/e232/coffeewithcaitlin/h54f2_zpsc7e1f4e7.jpg" alt="Bright on a Budget" width="200″ height="200″ />