TGIF, H54F-ers!!! Caitlin at Coffee with Caitlin, Della at Della Devoted, Katie at Cup of Tea, and myself want to welcome you to the link-up and the weekend. We made it!

Reminder: The next How I Style It link-up is this Wednesday, 02/04, featuring your date night looks! Link-up goes live at midnight.

This week's featured blogger is Taylor from A Tattooed Teacher in Texas. Taylor is a H54F-regular from way back in the day when the Lauren Elizabeth had the linkup:) While the name of her blog explains a lot about Taylor in a few words, she also a people-watcher and addicted to colored pens and purple highlighters just like me! She just had her first week of grad school. Oh, and she's on top of her planner skills.



Now let's recap this week's highlights:

1. We survived Jonas! We only ended up getting about 10 to 12″ of snow, so it wasn't terrible. Kane loved playing in it, as did I. Our local Jet's Pizza was delivering, so we had some yummy Jet's bread the first day. I drive an AWD and totally could've made it out if we would've needed to be out, but we didn't, so we let ourselves be snowed in and it was fun.


2. While snowed in, I shot a blog post (guys, I'm dedicated!haha) that will be coming to the blog next week and I shot my very 1st video for the blog! It's right at 2 minutes long and shows my 2 favorite ways to style a blanket scarf without all the bulk. This was a huge step for me, and I'm glad to have it out of the way. I may even film another video this weekend if I have time. If you missed it, you can check it out here.



3. Ulta haul! Need I say more?



4. We are working on getting Kane in bed at an earlier time. He resists, of course. One of last night's tactics was to cuddle Sox. How cute are those 2 together?!


5. I ate an entire package of the Cinnamon Bun Oreos while snowed in. Do yourself a favor and go buy some!!!


And last but not least, I want to give you all a heads-up about a new online shop that is opening! My friends over at Kentucky Brewed Tees are launching a new venture called Darling South for all things that are adorable and southern. The online shop opens on February 1st, but you can shop early by joining their mailing list here.


ICYMI this week:
Thanks for joining us for H54F! Be sure to link-up below and/or let us know how your week's been in the comments!

Follow along on GFC (click link or click button sidebar), Bloglovin' (click link or click button on sidebar), or email (click here). Also, tweet us or use #H54F and we'll retweet your post!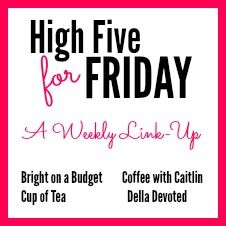 <div class="bright-on-a-budget-button" style="width: 200px; margin: 0 auto;">
<a href="https://www.brightonabudget.com" rel="nofollow">
<img src="http://i40.photobucket.com/albums/e232/coffeewithcaitlin/h54f2_zpsc7e1f4e7.jpg" alt="Bright on a Budget" width="200″ height="200″ />