This post contains affiliate links.

TGIF, H54F-ers!!! Caitlin at Coffee with Caitlin, Della at Della Devoted, Katie at Cup of Tea, and myself want to welcome you to the link-up and the weekend. We made it!

MARK YOUR CALENDARS: The next H54F Google Hangout is this coming Thursday, 02/11, at 9:30 p.m. eastern time. We'll be talking about all things love-related. Katie's promised to wear her wedding veil throughout the video, and I'm showing off my preserved wedding dress. I'm sure they'll be all sorts of shenanigans, so we hope you'll join us!

This week's featured blogger is Michelle from It's the New Twenty. Michelle is a lifestyle blogger. She done a recent post on Shakeology, which I've been looking into lately. She also loves Target as much as I do:)

Now let's recap this week's highlights:

1. Friday night, I bought my first pair of Uggs. Dillard's was having an extra 30% off clearance, and I was actually look for some hot pink heels that were 3″ tall or less, but I struck out:( I found these beauties right before the store closed for a total of 47% off ($53). I'd had my eye on them for several months, so I was really excited!
2. Saturday was a BIG day. You all know how obsessed Kane is with dinosaurs (as in sometimes I think I'm raising a baby dinosaur myself). . .well, we took him up to Cincinatti to see Jurassic Quest and he loved it! It was absolute hilarious when he was petting this baby dino. The baby dino may or may not have nipped at him shortly after this picture was taken, and Kane quickly jerked his hand back. It was too cute!
3. On Sunday, I took Kane to a birthday party and then we had dinner with my friend Jacque. Jacque is another attorney and fellow lover of the thrift. We ate at Chuy's and had such a fun time. Seriously, we connect on so many levels. Shortly after this pic was taken, Kane and I went home and immediately crashed with a 2 hour nap.
4. I had red velvet cheesecake from the Cheesecake Factory. It's like an instant stress reliever for me. So yummy. And I also had it for breakfast and dinner the next day too. Judge away.

5. My new Rocksbox arrived. You can preview what they're sending as soon as they select the pieces for your box, and while the new Kendra Scott earrings were at the top of my list, I was less than enthusiastic about the other 2 pieces. Well, surprise! They arrived at my office and I loved everything so much that I put it on right there at my desk. If you want to learn more about Rocksbox, check out this post, and remember that you can get 1 month FREE using code BRIGHTONABUDGETXOXO!


And ICYMI this week:
1. Go find this post on my Instagram and enter to win these 2 awesome Kentucky-shaped bangles (watch not included). Giveway ends tonight!
Thanks for joining us for H54F! Be sure to link-up below and/or let us know how your week's been in the comments!

Follow along on GFC (click link or click button sidebar), Bloglovin' (click link or click button on sidebar), or email (click here). Also, tweet us or use #H54F and we'll retweet your post!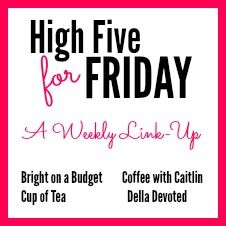 <div class="bright-on-a-budget-button" style="width: 200px; margin: 0 auto;">
<a href="https://www.brightonabudget.com" rel="nofollow">
<img src="http://i40.photobucket.com/albums/e232/coffeewithcaitlin/h54f2_zpsc7e1f4e7.jpg" alt="Bright on a Budget" width="200″ height="200″ />