TGIF, H54F-ers!!! Caitlin at Coffee with Caitlin, Della at Della Devoted, Katie at Cup of Tea, and myself want to welcome you to the link-up and the weekend. We made it!
This week's featured blogger is Kristy from Seven Graces, a lifestyle blog. While she used to be a high school English teacher, she's now a SAHM to her little girl. Kristy just made the announcement that she's writing a bible study this year. I also love her post about things to do in Napa Valley! I'm not a wine drinker, but her post has been wanting to visit!


Now let's recap this week's highlights::

1. A couple of my friends, including Whitney of Come Home for Comfort, hooked me up with some Old Navy Super Cash. I used it to purchase 2 pairs of pants I had been wanting, along with a black and white striped tee, a tee for Chauncey, a pair of earrings, and a pair of super-clearanced shoes for $1.97! Now that, my friends, is bright on a budget;) I also picked up some super affordable jewelry from Walmart. Walmart has been killing their jewelry game for the past year and a half. I was able to get 2 pairs of Kate Spade-inspired sparkle studs for $2 on clearance and a cute tassel necklace for just $5.



2. Kane and I headed home to eastern Kentucky last weekend. It was a quick trip, but it was nice to be back home for a little bit. I took naps and got some homemade fudge. Della and I even did an outfit shoot, which you can see at the end of this post.
3. This was my favorite outfit from the week. Love the mix of mint and red!
4. We had a family dinner date last night at Rooster's. It was a relaxing night out where we lingered over dinner and just chatted. Sometimes you just have to slow things down a little.

5. I made Kane this dinosaur Valentine's Day box out of a tissue box. He helped me stick the stickers on:)


ICYMI, this week's posts:
And if you need some additional Valentine's Dat style inspiration, check out
this Wardrobe Re-Wear
!
Thanks for joining us for H54F! Be sure to link-up below and/or let us know how your week's been in the comments!

Follow along on GFC (click link or click button sidebar), Bloglovin' (click link or click button on sidebar), or email (click here). Also, tweet us or use #H54F and we'll retweet your post!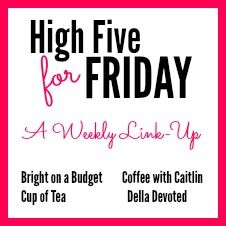 <div class="bright-on-a-budget-button" style="width: 200px; margin: 0 auto;">
<a href="https://www.brightonabudget.com" rel="nofollow">
<img src="http://i40.photobucket.com/albums/e232/coffeewithcaitlin/h54f2_zpsc7e1f4e7.jpg" alt="Bright on a Budget" width="200″ height="200″ />