TGIF, H54F-ers!!! Caitlin at Coffee with Caitlin, Della at Della Devoted, Katie at Cup of Tea, and myself want to welcome you to the link-up and the weekend. We made it!

Next week is Bring a Friend to H54F Day! Have a blogging friend that isn't currently linking up at H54F? Invite them to link up next week, and introduce them in your H54F post. We get to all meet some new bloggers, and who doesn't like that?

Today's featured blogged is Meg from My Monochromatic Life, a life and style blog. Meg is a therapist, and her and her hubby have two dogs. You should check out her awesome outfits, including this all black look, pretty date night outfits, and her business savvy look.

Now let's recap this week's highlights:

1. Kane loved Valentine's Day this year! He got all kinds of dinosaur stuff and some candy, so he was one happy boy.




2. Chauncey and I were also able to head out to dinner by ourselves for a Valentine's Day datenight! We always get reservations at Ted's Montana Grill for Valentine's Day because they don't have a set menu (bane of picky eaters' existences). The food was phenomenal and the conversation was awesome. It's was nice to be able to linger over dinner and not worry about Kane causing havoc.
3. If you haven't checked out MAC Cosmetics' Flamingo Park collection, then you need to right now. It features such pretty colors for spring + summer. I picked up the Flocking Fabulous lipstick on Saturday when I was out shopping for Chauncey for Valentine's Day (in case you were wondering, I tracked him down his favorite bourbon, Booker's, which was sold out all over town. . .clearly necessitated a stop by the makeup counter at the mall, right???).
4. Speaking of makeup, let me share my blogging fail with y'all. I came home on my lunch break on Wednesday to film a video for the blog about my recent Ulta haul. Girls, I nailed it! My hair and makeup were on point. Then, I go to upload it Wednesday night and it was blurry as all get out. How does that even happen? So I had to re-film it before work yesterday morning. One of our cats decided she was going to hijack the video. I just rolled with it, because I wasn't refilming a third time. At least it's done now, right?haha Anyways, check back in on Monday morning for the video–it's uploaded to Youtube and ready to roll.

5. I started Weight Watchers on Monday. It's the only diet I've ever been successful on. I'd like to lose 10 lbs. so that my clothes fit better and I feel better. So far, I'm doing decent. Anyone else dieting right now?


ICYMI, this week's only other post, thanks to my blogging fail, was all about my favorite wardrobe staple, skinny black pants. Check it out here.
Thanks for joining us for H54F! Be sure to link-up below and/or let us know how your week's been in the comments!

Follow along on GFC (click link or click button sidebar), Bloglovin' (click link or click button on sidebar), or email (click here). Also, tweet us or use #H54F and we'll retweet your post!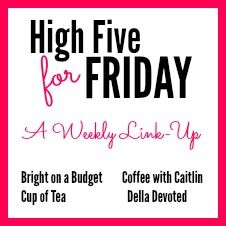 <div class="bright-on-a-budget-button" style="width: 200px; margin: 0 auto;">
<a href="https://www.brightonabudget.com" rel="nofollow">
<img src="http://i40.photobucket.com/albums/e232/coffeewithcaitlin/h54f2_zpsc7e1f4e7.jpg" alt="Bright on a Budget" width="200″ height="200″ />