TGIF, H54F-ers!!! Caitlin at Coffee with Caitlin, Della at Della Devoted, Katie at Cup of Tea, and myself want to welcome you to the link-up and the weekend. We made it!

Today is Bring a Friend to H54F Day! Have a blogging friend that isn't currently linking up at H54F? If you have a friend linking up with H54F for the first time, be sure to introduce them in your H54F post. We get to all meet some new bloggers, and who doesn't like that?

This week's featured blogger is Penny from Penny's Passion, a lifestyle blog. Penny is an administrative assistant that works in St. Louis who likes attending events, hanging with friends, cooking, and crafting. She's always sharing recipes, like this one for crab rangoon and this one for naughty brownies. She also recently shared some book reviews.

Now, let's recap this week's highlights:

1. As you all probably know, I'm a brand rep for Kentucky Brewed Tees because I love their stuff! Well, they recently started a new venture called Darlin' South and I'm just as much in love with it. I arrived home on Friday to the cutest box of goodies from Darlin' South. You can check out some of my favorite items from their launch here.


2. We were in eastern Kentucky for the weekend. I hate that we live away from family, but it's nice that they're close enough to visit frequently. And Kane got to go to a birthday party for one of my best friend's daughters. I may or may not have cheated a little on my diet, because the cake was delicious.


3. Speaking of dieting, I'm about halfway through Week 2. It's going decently, and I've lost a couple of pounds.

4. Old Navy had a great sale on a couple of items I was wanting, so I clicked the checkout button. I got these jeans for $21 and this sweatshirt for $7. The thing with Old Navy sales is that they change every time you turn around, so I keep my eye on an item for a week or two before ordering. . .then I order when I feel like the price point is just about right. The prices are currently higher, I believe, but keep a check on them if you're interested in either of these items.


5. Last night, I headed out to dinner at a local Mexican restaurant with two friends. It was a much-needed girls night filled with good food and fun stories. We sat around the table and talked for so long about anything and everything. Yay for nights like that!


ICYMI, here's this week's posts:
Thanks for joining us for H54F! Be sure to link-up below and/or let us know how your week's been in the comments!

Follow along on GFC (click link or click button sidebar), Bloglovin' (click link or click button on sidebar), or email (click here). Also, tweet us or use #H54F and we'll retweet your post!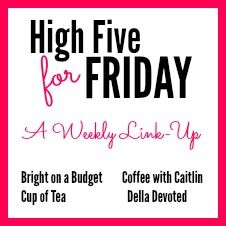 <div class="bright-on-a-budget-button" style="width: 200px; margin: 0 auto;">
<a href="https://www.brightonabudget.com" rel="nofollow">
<img src="http://i40.photobucket.com/albums/e232/coffeewithcaitlin/h54f2_zpsc7e1f4e7.jpg" alt="Bright on a Budget" width="200″ height="200″ />