TGIF, H54F-ers!!!
Della at
Della Devoted
, Katie at
Cup of Tea
, and myself want to welcome you to the link-up and the weekend. We made it!
Now, let's recap this week's highlights:
1. I was in eastern Kentucky last weekend. It was awesome to spend time with family. Della and I had a hair appointment with my hair lady, Ginger, on Friday night. Ginger is a master when it comes to color. I'm starting to put in some peek-through highlights for spring. There's nothing to make you feel more refreshed than an appoint with your hair stylist!!!
2. Mariah from
Faith and Fashion
was in town this week, so we met for dinner at Roosters. It was nice to catch up over yummy food! We chatted about blogging, thrifting, and our kids:)
3. I made my first purchase from Poshmark! I found the Lilly for Target flamingo train case NWT for $21. I needed a new makeup bag, and was so excited to get my hands on this beauty!
4. Yesterday's outfit was my favorite from this week! My tee was less than $6 from Walmart, and will be featured in an upcoming blog post.
5. Last night, Chauncey and I took Kane to Disney on Ice with some of our friends and their son. Kane was captivated by it. He was dancing along to the music and keep his face glued to the ice most of the time. I loved when he point to something that was going on to show me. I love Disney too, and my favorite parts were the ones with Aladdin and the Little Mermaid, although the Snow White skit was cute too.
ICYMI, here's this week's posts:
for saving on both drugstore + beauty counter brands)
Thanks for joining us for H54F! Be sure to link-up below and/or let us know how your week's been in the comments!

Follow along on GFC (click link or click button sidebar), Bloglovin' (click link or click button on sidebar), or email (click here). Also, tweet us or use #H54F and we'll retweet your post!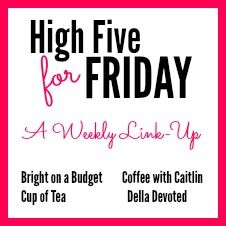 <div class="bright-on-a-budget-button" style="width: 200px; margin: 0 auto;">
<a href="https://www.brightonabudget.com" rel="nofollow">
<img src="http://i40.photobucket.com/albums/e232/coffeewithcaitlin/h54f2_zpsc7e1f4e7.jpg" alt="Bright on a Budget" width="200″ height="200″ />